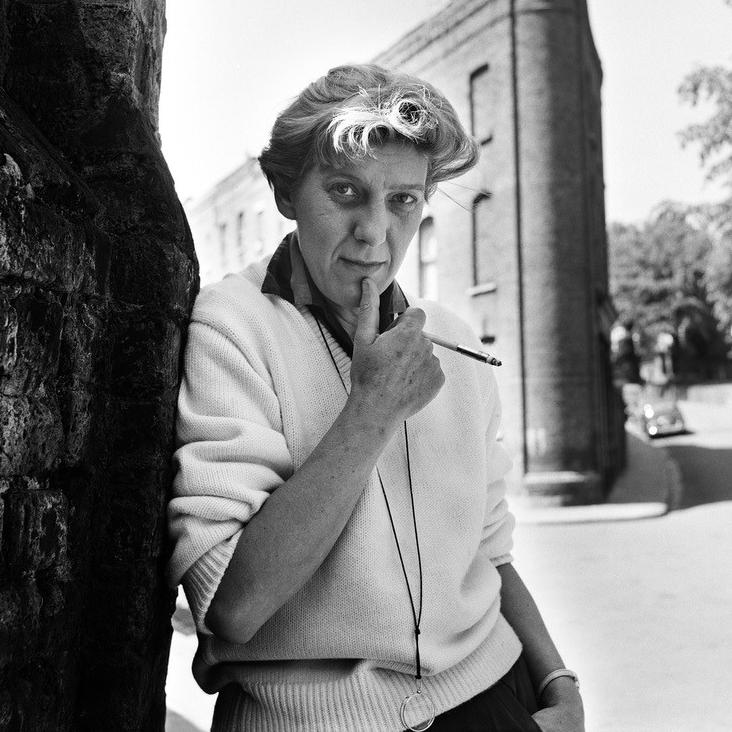 Kay


Dick

Novelist, writer and editor

1915 - 2001
©Kay Dick (1915–2001) was a novelist, writer and editor. She was the first woman director in English publishing and a tireless campaigner for the Public Lending Right.

Her life began as unconventionally as she was to live it. She was 'baptised' in the Café Royal, by bohemian friends of her mother, Kate Coleman, a part-Irish actress, who had taken her there when she left Queen Charlotte's Hospital, London, with 2s 6d in her purse, no husband and no home.

Kay Dick was educated at boarding schools in Geneva and at the London Lycée in South Kensington, developing a taste for and scholarly appreciation of modern French literature. She worked at Foyles bookshop in London's Charing Cross Road and, at 26, became the first woman director in English publishing at P.S. King & Son. She later became a journalist, working at the New Statesman, and for many years she edited the literary magazine The Windmill, under the pseudonym Edward Lane.

She wrote five novels, the best known of which were probably An Affair Of Love (1953) and Solitaire (1958), before turning her ambitions towards literary biography and researching the lives of Colette and Carlyle. In 1960 she published what many consider to be her finest achievement, Pierrot, an investigation into the commedia dell'arte.

A regular reviewer for The Times, the Spectator and Punch, Kay Dick also edited several anthologies of stories and interviews with writers, including Ivy and Stevie (1971) and Friends and Friendship (1974). She was extraordinarily generous with her time and her friendships, wanting her friends to meet and like one another, helping and encouraging young and unknown writers, and always championing the writer's cause – most notably by campaigning tirelessly and successfully for the introduction of the Public Lending Right, which pays royalties to authors when their books are borrowed from public libraries.

Kay Dick was a strikingly handsome woman with a great crest of blonde hair, an eye glass, a cigarette always to hand, and clothed in shirts from Jermyn Street. For 22 years she lived with her partner the novelist Kathleen Farrell in Great Missenden and Hampstead, before moving to Brighton in her fifties, where she became a well-known figure walking her dogs along the seafront.

Her closest friends included the writers Neville and June Braybrooke, and novelists Brigid Brophy (fellow PLR campaigner), Pamela Hansford Johnson, Francis King, Gillian Freeman and Shena Mackay. They and others were entertained at Arundel Terrace, where cigarettes, cream teas and martinis were supplied in quantities which belied her financial situation.

Her basement flat was lined with floor-to-ceiling bookshelves crammed with editions of most of the 20th century's notable writers, many of which were inscribed by authors grateful for her editorial help, including George Orwell, who gave her a copy of Animal Farm, inscribed with the words: 'Kay – To make it and me acceptable', and L.P. Hartley, who wrote 'with gratitude and admiration' in her copy of The Go-Between.

(photo of Kay Dick copyright © Helen Craig)

'Kay Dick's mind is a delicate instrument, aware, sensitive, intelligent, alive to every shade of feeling and sensation'- L. P. Hartley
'Dick makes her dizzy technical expertise seem the simplest thing in the world' - Telegraph