book
| Fiction
| Mar 2017
ANZ →
Allen & Unwin Pty
(Ed. Annette Barlow)
Travelling between lush gardens in France, windswept coastlines of Tasmania, to Tuscan hillsides and beyond, The Midsummer Garden lures the reader on an unforgettable culinary and botanical journey.

1487 Artemisia is young to be in charge of the kitchens at Chateau de Boschaud but, having been taught the herbalists' lore, her knowledge of how food can delight the senses is unsurpassed. All of her concentration and flair is needed as she oversees the final preparations for the sumptuous wedding feast of Lord Boschaud and his bride while concealing her own secret dream. For after the celebrations are over, she dares to believe that her future lies outside the Chateau. But who will she trust?

2014 Pip Arnet is an expert in predicting threats to healthy ecosystems. Trouble is, she doesn't seem to recognise these signs in her own life. What Pip holds dearest right now is her potential to make a real difference in the marine biology of her beloved Tasmanian coastline. She'd thought that her fiance Jack understood this, believed that he knew she couldn't make any plans until her studies were complete. But lately, since she's finally moved in with him, Jack appears to have forgotten everything they'd discussed.

When a gift of several dusty, beautiful old copper pots arrives in Pip's kitchen, the two stories come together in a rich and sensuous celebration of family and love, passion and sacrifice.

Rights
Kate Cooper manages the translation rights for The Midsummer Garden
Film Rights
Available
Contact Clare Forster for more information
Audio Rights
Available
The audio rights are handled by Clare Forster.
Translation Rights Sold
German
World
Verlagsgruppe Droemer Knaur
Serbian
World
Vulkan Publishing
Media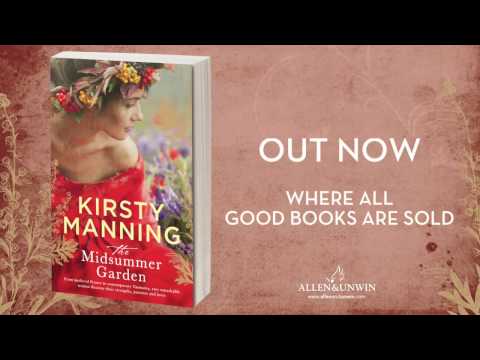 Reviews
Ripe to be plucked for a screen adaptation, this mouth-watering debut novel - meticulously researched and crafted - raises the bar in contemporary and historical fiction coupling . . . Manning's eye for parallel characteristics of our protagonists is exquisite.
Australian Women's Weekly
Given the passion of Kirsty Manning, the ease at which she slips into the quintessential lifestyle of the author, and with another novel in the works, there is no doubt The Midsummer Garden will not be the last we see of her.

Herald Sun
A delightful debut

Adelaide City Messenger
A satisfying read, bound to delight Kate Morton fans.

Natasha Boyd
Book Bonding Bookstore
In this gorgeous looking book … Manning writes deftly about the emotions associated with loving someone in a mature, engaging way … boy, did this book live up to expectations!

Emily Paull
Sumptuous food, glorious imagery, and alluring settings—what's not to love? ... The prose is as delicious as the aromas you imagine wafting from the kitchens of medieval France and contemporary Tuscany. And the way both stories unfold into each other is achingly beautiful

Jodi Gibson
A satisfying blend of contemporary and historical fiction, with each story compelling and well-wrought, and the links between the two intriguing. Themes of happiness, of family lore, relationships and self fulfillment are explored and food lovers will enjoy the culinary detail.

Sally Murphy
Aussiereviews.com
An evocative, lyrical tale of the search for identity by two unforgettable women, separated by history...Manning displays her knowledge of gardening, ancient herbs and food as the two storylines intersect and move towards their powerful conclusion … A fictional Eat Pray Love that all lovers of food and wine will devour

Sally Hepworth, author of The Secrets of Midwives
...compelling, passionate and admirable

Australian Women's Weekly
This is a rich, sensual, and evocative novel, fragrant with the smell of crushed herbs and flowers, and haunted by the high cost that women must sometimes pay to find both love and their vocation.

Kate Forsyth