"If I really wanted to open up, I'd confess that I really am the liar everyone believes I am."

High-school junior Tola Riley has green hair, a nose ring, an attitude problem, and a fondness for fairy tales, which are a great escape from real life. Everyone thinks she's crazy; everyone says so. Everyone except Mr. Mymer, her art teacher. He gets her paintings and lets her hang out in the art room during lonely lunch periods.

But then rumors start flying and Tola is suddenly the center of a scandal. The whole town is judging her—even her family. When Mr. Mymer is suspended for what everyone thinks is an affair, she has no choice but to break her silence. Fairy tales won't help her this time . . . so how can she tell the truth? And, more importantly, will anyone believe her?
Rights
Roxane Edouard manages the translation rights for Bad Apple
Media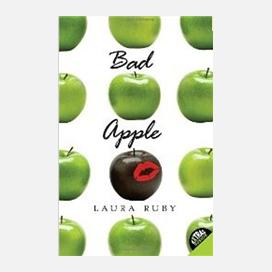 Reviews
There's wit and cleverness as well as sympathy in both the writing and in the touches of fairy–tale allusion. This is both an absorbing read and a thought–provoking one.
Bulletin of the Center for Children's Books (starred review)
A creatively constructed story with a modern-day scandal.
Publishers Weekly
A provocative premise, which is by turns hilarious and touching.
Kirkus Reviews
A clever, sardonic character study. Tola and her family are fascinating, quirky-yet-believable, and wholly likable. Visual artists will love this homage to creativity, and teens outside the status quo will find a kindred spirit in plucky Tola.
Booklist
Tola] is an unusual and likable narrator. Readers will laugh, hurt, and roll their eyes along with this witty individualist of a heroine and her friends and supporters.
School Library Journal
Ruby's novel has plenty to distinguish it. Tola is one of a kind—a creative artist with a distinct worldview.
The Horn Book