Featured in the New York Times' 25 Best Children's Books of 2019 List
The school year is over, and it is summer in Atlanta. The sky is blue, the sun is blazing, and the days brim with possibility. But Leah feels…lost. She hasbeen this way since one terrible afternoon a year ago, when everything changed. Since that day, her parents have become distant, her friends have fallen away, and Leah's been adrift and alone.

Then she meets Jasper, a girl unlike anyone else she has ever known. There's something mysterious about Jasper, almost magical. And Jasper, Leah discovers, is also lost. Together, the two girls carve out a space for themselves, a hideaway in the overgrown spaces of Atlanta, away from their parents and their hardships, a place only they can find, where no one besides them exists.

But as the days of this magical June start to draw to a close, and the darker realities of their lives intrude once more, Leah and Jasper have to decide how real their friendship is, and whether it can be enough to save them both.

Laurel Snyder, author of Orphan Island, returns with another unforgettable story of the moments in which we find out who we are, and the life-altering friendships that show us what we can be.
Rights

Enrichetta Frezzato manages the translation rights for My Jasper June
Media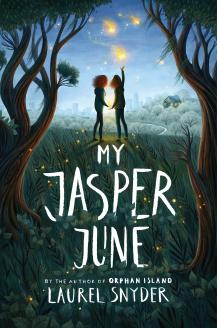 Reviews
Leah's first-person narrative acutely gets at the varied, sometimes volatile experience of grief, and tweens who like emotionally raw storytelling will likely be hooked.

Booklist
The joyful, almost ethereal friendship the two girls form is refreshingly and intensely honest... A candid story about two teens who find solace and strength in each other.

Publisher's Weekly (Starred)
Nothing has been right for 13-year-old Leah Davidson since the death of her little brother. As we read in Laurel Snyder 's novel "My Jasper June", life feels hollow even a year later. Leah's once-lively parents seem drained, and the awkwardness and pain of loss have cut Leah off from her old companions...There are shades of Julie Andrews Edwards 's classic novel "Mandy" (1971) here, with the girls' longing for home revealed in their efforts to spruce up Jasper's tumbledown house. But there are good reasons that young teens shouldn't live by themselves—and when a storm strikes and danger threatens, Leah faces a moral dilemma in this moving and perceptive story for readers ages 9-13.


The Wall Street Journal
Full Review
A beautiful story about the healing powers of friendship in the face of tragedy and hardship

School Library Journal (Starred)
As Leah tries to empathize with Jasper, she gets an important lesson on the limits of such comparisons, but she also wakes up to an understanding of what she and her parents need to come out of their solitary grief and move forward... Between the two girls, a strong case for listening to the common sense of young people and seeking solutions for social and personal problems outside of bureaucratic systems emerges and makes elegant sense.

Bulletin for the Centre for Children's Books
Full Review
"My Jasper June" is a realistic book that explores fantasy tropes and examines how the desire for magic can be useful, but can also cover over upsetting truths... Snyder has written a wholly original book that marries ideas about grief in a family with an exploration of the uses of a secret hideaway.


Meg Wolitzer
The New York Times
This book is a treasure.
R J Palacio
Author of Wonder