book
| Non-Fiction
| 2015
US & Canada →
Penguin
(Ed. Ann Godoff)
UK & Comm →
Little, Brown & Company
(Ed. James Gurbutt)
A Photographer's Life of Love and War
Lynsey Addario's account of the horrifying and amazing events she has witnessed over the past 15 years, both as a Pulitzer Prize winning photojournalist and a woman.

Lynsey began photographing professionally in 1996 - with no professional photographic training or studies - and immediately focussed on documenting conflict and humanitarian issues. In 2000, she traveled to Afghanistan under Taliban rule to document life and oppression under the regime. She has since covered conflicts in Afghanistan, Iraq, Lebanon, Darfur, and Congo, and shoots features across the Middle East, South Asia, and Africa.

Lynsey's recent bodies of work include Veiled Rebellion, a photo essay exploring the lives of women in Afghanistan for National Geographic, Maternal Mortality in Sierra Leone for Time Magazine, Talibanistan, and Battle Company is Out There, documenting both sides of the war in Afghanistan and the Taliban in Pakistan for The New York Times Magazine.

Rights
Helen Manders manages the translation rights for It's What I Do
Translation Rights Sold
Chinese Complex
Taiwan
Marco Polo Press Inc
Chinese Simple
Mainland China
Chinese National Geography Book
Dutch
World
Uitgeverij De Arbeiderspers
French
World
Editions Fayard
German
World
Ullstein Buchverlage
Hungarian
World
Cartaphilus
Italian
World
Corriere Della Sera
Korean
World
Munhakdongne
Polish
World
Swiat Ksiazki
Portuguese
Brazil
Editora Intrinseca
Portuguese
World
Marcador
Russian
World
Eksmo Publishers
Spanish
World
Roca Editorial
Thai
World
Amarin Printing & Publishing
Media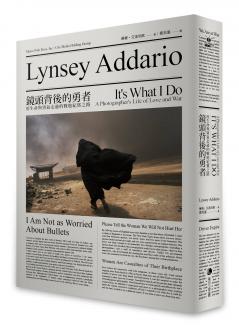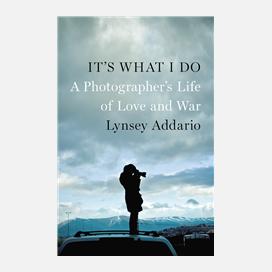 Reviews
Addario's memoir brilliantly succeeds not only as a personal and professional narrative but also as an illuminating homage to photojournalism's role in documenting suffering and injustice, and its potential to influence public opinion and official policy.
Publishers Weekly
A brutally real and unrelentingly raw memoir that is as inspiring as it is horrific.
Kirkus Reviews (starred)
Full Review
After all, this "extraordinary profession"—though exhilarating and frightening, it "feels more like a commitment, a responsibility, a calling"—is what she does, and the many photographs scattered throughout this riveting book prove that she does it magnificently.
Booklist
Full Review
It's What I Do is as brilliant as Addario's pictures—and she's the greatest photographer of our war-torn time. She's been kidnapped, nearly killed, while capturing truth and beauty in the world's worst places. She's a miracle. So is this book.

Tim Weiner
Lynsey Addario's book is like her life: big, beautiful, and utterly singular.

Dexter Filkins
Full Review
A gifted chronicler of her life and times, Lynsey Addario stands at the forefront of her generation of photojournalists, young men and women who have come of age during the brutal years of endless war since 9/11. A uniquely driven and courageous woman, Addario is also possessed of great quantities of humor and humanity. It's What I Do is the riveting, unforgettable account of an extraordinary life lived at the very edge.

Jon Lee Anderson
A life as a war photographer has few parallels in terms of risk and reward, fear and courage, pain and promise. Lynsey Addario has seen, experienced, and photographed things that most of us cannot imagine. The brain and heart behind her extraordinary photographic eye pulls us inexorably closer to the center of each story she pursues, no matter what the cost or danger.

John Prendergast
[Lynsey Addario] illuminates the daily frustrations of working within the confines of what the host culture expects from a member of her sex and her constant fight for respect from her male journalist peers and American soldiers.

Entertainment Weekly
Full Review
Beautifully written and vividly illustrated with her images.

The Boston Globe
Full Review
[A] richly illustrated memoir.

Los Angeles Times
Full Review
[Addario's] ability to capture… vulnerability in her subjects, often in extreme circumstances, has propelled Addario to the top of her competitive field.

The Associated Press
[An] unflinching memoir.

The Washington Post
Full Review
The very best photographers develop an ineluctable bond with their subjects, an intimacy built on patience and trust; in the strongest photos here, such as her portraits of women rape victims in Congo, her ability to capture their strength and vulnerability is profoundly touching [...] In the acutely observed account of her negotiations with a young Taliban visa clerk, for example — a complex dance requiring her to shift constantly between submission, flirtation and defiance — the reader is likely to learn more about the capricious nature of Islamic fundamentalism than from a dozen essays or position papers.
Scott Anderson
International New York Times
It's What I Do: A Photographer's Life of Love and War review – Lynsey Addario's post-9/11 memoir

A post-9/11 memoir by a female photojournalist torn between the need to bear witness from often dangerous places and the call of family, motherhood and a safer life.

Sean O'Hagan
The Guardian
Addario has all the criteria for being a war photographer – guts and stamina, persistence and patience – but her photographs are about much more than being in the right place at the right time. Her compositions are exquisite, and she specialises in dispelling myths and stereotypes.
Jessamy Calkin
The Telegraph
[A]n incredible account of a woman who is deftly trying to balance her drive and ambition, a compulsion to tell stories that need to be told, her family back home, and the occasional gut-check that lets her know that she's right on the line of going irrevocably too far.
Goop