Winner: Best Script, Irish Film and Television Awards
film


(

Feature

)

Producer

Neil Jordan, Alan Moloney, Stephen Woolley

Director

John Crowley

Starring
Colin Farrell
Cillian Murphy
Colm Meaney
Kelly Macdonald
David Wilmot

Distributor Buena Vista & IPC Production Company Brown Sauce Film Productions
Intermission is an urban love story about people adrift and their convoluted journeys in the search for some kind of love.
When the desperately insecure and emotionally inarticulate John breaks up with Deirdre to 'give her a little test' his plan backfires leaving her broken-hearted and him alone and miserable. Through chance and coincidence, their break-up triggers a roller coaster ride of interweaving escapades in the lives of everyone around them. Intermission presents a slice of life, the passage between breaking up and making up, exploring how our lives intersect, and the power we all possess to affect the lives of those around us.
Media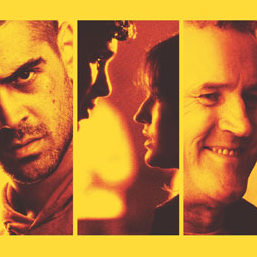 Reviews
this raucously funny and compellingly gritty ensemble piece comes complete with plenty of snap, crackle and Irish pop.
Jamie Russell
BBC Films