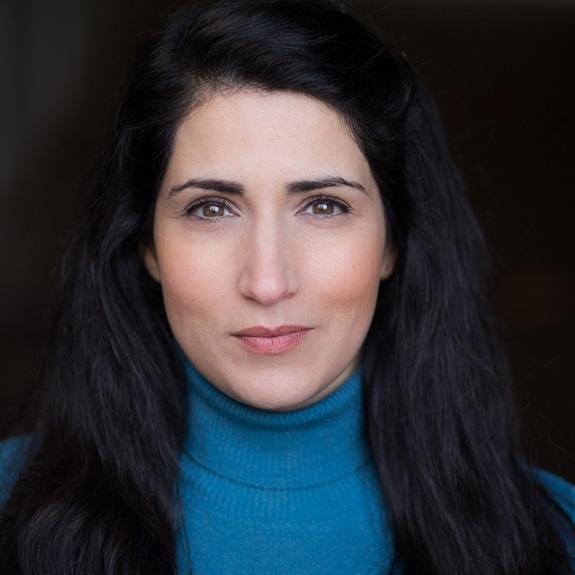 Maryam


Hamidi

Maryam is a writer for stage, screen and radio.



Maryam was born in Iran and moved to the UK as a young child during the Iran-Iraq war. She grew up in Essex and Cheshire, is now based in Glasgow and is a mother to two young children. This all informs her writing practice and the kind of stories she wants to tell.

For TV she is currently developing a high concept drama, Gonaah (Sin) with World Productions with support from BBC Writersroom's Scottish Drama Writers Programme. She is also developing YA detective drama 'Art School' with Two Rivers Media. She has written for all 4 series of CBeebies live action comedy drama 'Molly & Mack'.

She has written and directed BFI Network funded supernatural drama 'Bahar' (15', 2021 Moquette films) and SFTN funded 'Bloody Love' (7', 2017 Clan Productions).

For theatre, her play Moonset is currently in development with the Citizens Theatre, Glasgow, the screen adaptation of which is being developed as a feature film with Blue Iris Films. She was runner up for the Amnesty: Freedom of Expression award 2009 for The Chronicles of Irania, co-written with Catrin Evans (A Moment's Peace), and she's been a recipient of Fire Exit experimental playwriting award and the Playwright's Studio Scotland New Playwright's Award.

Television
Writer & Creator
World Productions
In development
Two Rivers Media
In Development
Writer
Lime Pictures
for
Channel 4
Live action kids comedy-drama.
Film
Writer
Adaptation of play script
Theatre
Writer
What makes a good story? Not always the simple truth. For Ashraf, the words between why they left, how they got here and why they need to stay are hanging in the air. Their interpreter might be reshaping the story and we don't yet know how it ends. The Words is an urgent exploration of home office asylum interviews and the single most important story you might one day need to tell to survive.

A Play, A Pie, And A Pint
I Look Down on Myself tells the tale of Mandana, an immigrant in Scotland, who is grappling with the realisation of how she has steadily began to lose a sense of her identity and how she now disassociates from each present moment, whilst also reflecting on the trauma of witnessing her parent's pitiful transformation from citizens to immigrants. I Look Down on Myself is Hamidi's take on the notion of a ghost story, with the ghost metaphor standing in for the experience of disappearing pieces of yourself and your birth culture/heritage to assimilate and 'pass' culturally in the UK.

Pitlochry Festival Theatre
Poppies
Recipient of 2006 Playwright's Studio Scotland Mentorship Award
Playwright's Studio, Scotland
Writer
co-written with Catrin Evans
End Of
Recipient of 2017-18 Pyromania Award
Writer
co-written with Clare Duffy
Moonset
Recipient of 2018 Playwright's Studio Scotland New Playwright's Award
Commissioned by Citizens Theatre Glasgow
Radio
Writer
Production Company Gusman Productions
Broadcaster
Radio 4
15 minute Radio Sitcom pilot - Transmitted BBC Radio Scotland and BBC Ulster Spring 2018 as part of BBC Writersroom 'Short Stories for Grown ups'.

Production Company BBC Ulster Radio
Broadcaster
BBC Scotland