Sophomore Year Is Greek To Me
High school sophomore Zona Lowell has lived in New York City her whole life, and plans to follow in the footsteps of her renowned-journalist father. But when he announces they're moving to Athens for six months so he can work on an important new story, she's devastated— he must have an ulterior motive. See, when Zona's mother married an American, her huge Greek family cut off contact. But Zona never knew her mom, and now she's supposed to uproot her entire life and meet possibly hostile relatives on their turf? Thanks... but no thanks.

In the vein of Anna and the French Kiss, Zona navigates a series of hilarious escapades, eye-opening revelations, and unexpected reunions in a foreign country—all while documenting the trip through one-of-a-kind commentary.
Rights
Mairi Friesen-Escandell manages the translation rights for Sophomore Year Is Greek To Me
Media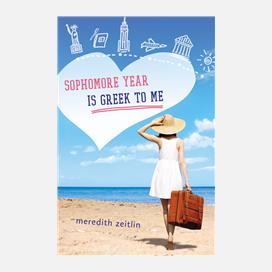 Reviews
Fans of Sarah Mlynowski, Stephanie Perkins and Louise Rennison will enjoy this squeaky-clean travel adventure about the strength of family and the power of new experiences.
Kirkus
Full Review
Zeitlin has created a welcoming and exciting read set half-way around the world from what most American high school sophomores experience.
VOYA
Full Review