book
| Non-Fiction
| 2014
US & Canada →
Random House
(Ed. Pamela Cannon)
UK & Comm →
Canongate Books
(Ed. Jenny Lord )
One of Time.com's Best Books of 2014
In this urgent book, chef Michael Gibney uses twenty-four hours to animate the intricate camaraderie and culinary choreography in an upscale New York restaurant kitchen. Here readers will find all the details, in rapid-fire succession, of what it takes to deliver an exceptional plate of food—the journey to excellence by way of exhaustion.
Told in second-person narrative, Sous Chef is an immersive, adrenaline-fuelled run that offers a fly-on-the-wall perspective on the food service industry, allowing readers to briefly inhabit the hidden world behind the kitchen doors, in real time. This exhilarating account provides regular diners and food enthusiasts alike a detailed insider's perspective, while offering fledgling professional cooks an honest picture of what the future holds, ultimately giving voice to the hard work and dedication around which chefs have built their careers.
In a kitchen where the highest standards are upheld and one misstep can result in disaster, Sous Chef conjures a greater appreciation for the thought, care, and focus that go into creating memorable and delicious fare. With grit, wit, and remarkable prose, Michael Gibney renders a beautiful and raw account of this demanding and sometimes overlooked profession, offering a nuanced perspective on the craft and art of food and service.
Rights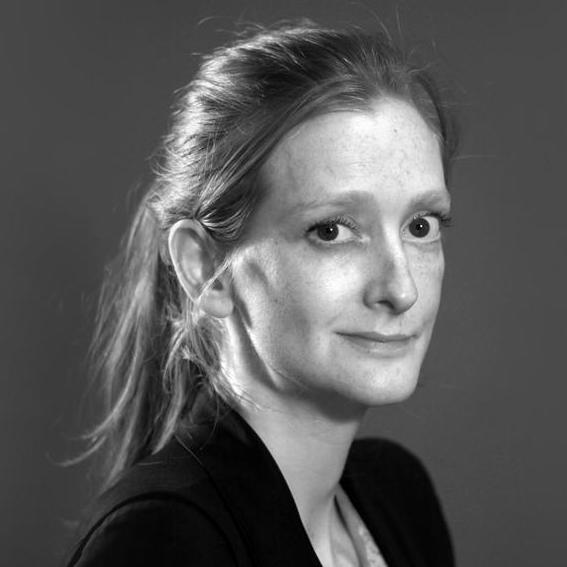 Daisy Meyrick manages the translation rights for Sous-Chef
Audio Rights
Available
The audio rights are handled by Alice Lutyens.
Translation Rights Sold
Russian
World
Eksmo Publishers
Media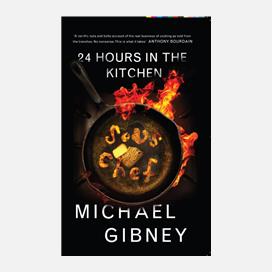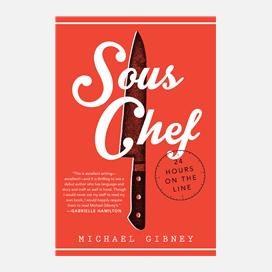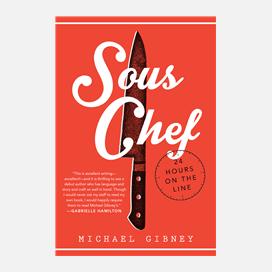 Reviews
A terrific nuts and bolts account of the real business of cooking as told from the trenches. No nonsense. This is what it takes.
Anthony Bourdain, author of Kitchen Confidential
Full Review
This is excellent writing — excellent! — and it is thrilling to see a debut author who has language and story and craft so well in hand. Though I would never ask my staff to read my own memoir, I would happily require them to read Michael Gibney's.
Gabrielle Hamilton, author of Blood, Bones, and Butter
Sous Chef is a marvelous, superbly written, intelligent and accomplished book. I know no other book that so vividly renders the experiential feel and complexity of life in a big restaurant kitchen. The sheer amount of knowledge demonstrated here of the particulars of cooking is immense, and the dynamic, seesaw relationship between Chef and Sous Chef is especially well-achieved. I was gripped by the author's culinary passion and literary sophistication. Bravo!

Phillip Lopate
A good cook chooses ingredients carefully, just as a writer must select the right words. Mike Gibney is a word cook of the highest order and this book will leave you licking your fingers.
Gary Shteyngart
One day and one calamitous night in the life of a sous chef in a high-end, high-pressure Manhattan restaurant. Gibney's writing is in Anthony Bourdain's league: he puts across both the intense stress and the intense joy of cooking in a professional kitchen.
Time Magazine Best Books of 2014
Full Review
Gibney has the soul of poet and the stamina of a stevedore.
New York Times Book Review
Full Review
A real-life warts and all portrayal of a day in the life of a New York sous chef . . . Gibney takes you by the hand and leads you into this realm of hellfire and brimstone, order and chaos . . . the pace – when you're in the thick of it – is thrilling, and the tension palpable.
Independent
Sous Chef is a vibrantly written guide to terminology and process, with plenty of real-time detail and a dash of kitchen gossip
Jojo Marshall
Entertainment Weekly
Full Review
Such culinary experience paired with linguistic panache is a rarity. Portion it out over numerous sittings for no other reason than prolonging its enjoyment.
Arun Kundnani
The Daily Beast
Full Review
The pleasures of reading Sous Chef are propelled by a sort of kinesthetic joy, one that, combined with Gibney's rich detail of the kitchen's culinary intricacies and personnel politics, makes for a totally immersive read.
Kevin Nguyen
Grantland.com
Full Review
A compelling account of a single day's service, from opening up in the morning to arriving home in the small hours exhausted, after a stress-relieving blow-out in a bar. Gibney is strong on the camaraderie engendered by working in such close quarters ("by day we are craftsmen of military efficiency, by night we are scoundrels") but equally illuminating on the tasks at hand . . . For any diner who's ever watched all the rushing about behind the pass and wondered: "Could I hack it?"
Observer Food Monthly
Gibney is as skilled with words as he is with his 11-inch Sujihiki knife.
Publishers Weekly
Starred Review
Full Review
Sumptuously entertaining fare . . . [Gibney] breathes life into the mix of outsized personalities inhabiting the confined, hot, noisy space of the kitchen.
Kirkus Reviews
Starred Review
One of the most informative, funny and transparent books about the restaurant biz ever written
Bret Easton Ellis
This fast-paced and thrillingly crafted narrative reveals teh blood, sweat and tears and countless fag breaks which go into producing restaurant meals. Ideal for Masterchef devotees pondering whether they would have the ability to stand the heat of the kitchen.
Bookseller
Editors' Pick
Culinary students can learn plenty here.
Booklist
Full Review
Gibney evokes every moment of the sous chef's day with hallucinatory clarity . . . Like Gabrielle Hamilton, another chef who writes brilliantly about the hard-earned rewards of life in a prfessional kitchen, Gibney has the soul of a poet and the stamina of a stevedore . . . Tender and profane.
New York Times
Michael Gibney's Sous Chef not only brought back a host of memories but shows what it's really like to work full-on in the high-end restaurant industry. A must-read for anyone for anyone even thinking about diving into the wild world of restaurant cheffing.
Carla Lamont
Scotsman