book
| Non-Fiction
| Sep 2020
What's Become of the Common Good?​
These are dangerous times for democracy. We see a populist revolt against mainstream parties and politicians, who struggle to make sense of the discontent roiling politics around the world. Like the triumph of Brexit in the UK, the election of Donald Trump was an angry verdict on decades of rising inequality and a version of globalization that benefits those at the top but leaves ordinary citizens feeling disempowered. It was also a rebuke for a technocratic approach to politics that is tone deaf to the resentments of people who feel the economy and the culture have left them behind. And a similar predicament afflicts European democracies.
Michael Sandel will argue that before the mainstream parties can hope to win back public support, they must rethink their mission and purpose. To do so, they should learn from the populist protest that has displaced them — not by replicating its xenophobia and strident nationalism, but by taking seriously the legitimate grievances with which these ugly sentiments are entangled. But they need also to rethink something subtler but no less consequential — the attitudes toward success and failure that have accompanied the growing inequality of recent decades. More than a protest against immigrants, outsourcing, and stagnant wages, the populist complaint is about the tyranny of merit. And the complaint is justified.
Sandel highlights the hubris a meritocracy generates among the winners and the harsh judgment it imposes on those left behind. He offers an alternative way of thinking about success - more attentive to the role of luck in human affairs, more conducive to an ethic of humility, and more hospitable to a politics of the common good.
Rights
Helen Manders manages the translation rights for The Tyranny of Merit
Film Rights
Available
Contact Esther Newberg for more information
Translation Rights Sold
Chinese Complex
World
Eurasian Publishing Group
Chinese Simple
Mainland China
CITIC Publishing Group
Danish
World
Informations Forlag
Dutch
World
Uitgeverij Ten Have
French
World
Editions Albin Michel
German
World
Fischer Verlag, S
Greek
World
Polis Publishing
Italian
World
Feltrinelli
Japanese
World
Hayakawa Publishing Inc
Korean
World
Mirae N Co.,Ltd.
Marathi
World
Madhushree Publications
Polish
World
Wyadawnictwo Naukowe PWN
Portuguese
Portugal
Editorial Presenca
Thai
World
Salt Publishing
Turkish
World
Hayalci Yayincilik
Media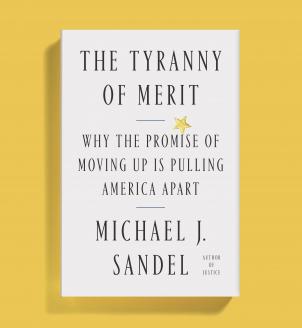 Reviews
Well-argued, clear, and nicely timed to appeal to the growing disillusionment with meritocracy

New Statesman
The Tyranny of Merit deftly exposes the flaws and fallacies of meritocratic philosophy. In lucid, illuminating prose, Sandel makes a compelling case for uprooting inequality and building a fairer society shaped by true principles of justice. A seminal work.

Darren Walker
President, Ford Foundation
This is a remarkable book about justice. In his unique and powerful moral voice, Michael Sandel digs at the roots of our divisions, dissects the causes of inequality, and dismantles the lazy orthodoxy of those on the left and the right. No good faith reader will come away from this book unchanged

Preet Bharara
former U.S. Attorney for the Southern District of New York
Astute, insightful, and empathetic, Sandel exposes the cruelty at the heart of some of our most beloved myths about success. A must-read for anyone struggling to understand populist resentment, and why, for many Americans, the American Dream has come to feel more like a taunt than a promise. This book is just what we need right now.

Tara Westover
Author of Educated
A withering analysis (by) perhaps the most formidable critic of free-market orthodoxy in the English-speaking world

Observer
Credentialism is the last acceptable prejudice… blends fact, analysis and opinion … eminently readable

FT
Engaging and timely critique . . . will do more to help us to heal our divided societies

Sunday Times
Brilliant… Sandel's critique is as compelling as his plea for the renewal of social bonds is powerful.

Adrian Pabst
Michael Sandel is the most important and influential living philosopher
Paul Collier
TLS