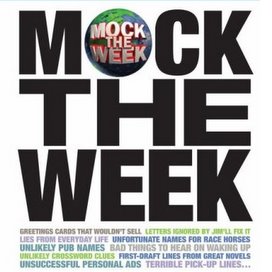 Mock the Week is the biggest comedy programme on BBC2, regularly drawing in over five million viewers a week and featuring some of the sharpest comedians in the business.Created by Dan Patterson and Mark Leveson and produced by Angst Production, the show blends topical news with satire and improvisation.
The Mock the Week book series, published by Macmillan, covers such categories as:
Unsuccessful Job Applicants
Cards You'll Never See in a Newsagent's Window
Unnerving Things to Hear in a Medical Exam
Unlikely Obituaries
And many more important topics of our time. The book series has been a huge success, proving once again that the British public are only interested in serious, hard-hitting non-fiction.