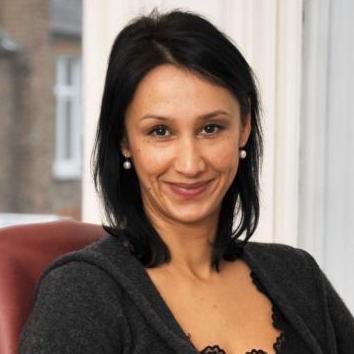 Monica Ali is an award-winning, bestselling writer work has been translated into 26 languages. Her debut novel, Brick Lane, was shortlisted for the Man Booker prize and described by James Wood as 'a great achievement of the subtlest storytelling'.
Her second book, a novel-in-stories, Alentejo Blue, set in rural Portugal, was described by the Sunday Telegraph as 'A kind of Portuguese version of Under Milk Wood…wise, graceful and supremely elegant.'

In the Kitchen, the third novel, entailed a year's research in London hotel kitchens, including chopping up a lot of onions. The Sunday Times called it 'dazzling,' and the Scotsman said of it, 'This is a book about what it means to live in the twenty-first century; what it means to be good in this world of moral and political quicksand…Monica Ali is on top form.'

Monica Ali was chosen as one of Granta's 2003 Best of Young British Novelists. She has judged a number of literary prizes including as Chair of the Asian Man Booker. Her writing has appeared in numerous publications including The Guardian, the Times, The New Yorker, and the New York Times. Monica has been a guest editor of BBC Radio 4's Today programme, and has presented several editions of the Radio 4 show, A Point of View. She is a Fellow of the RSA and of the Orwell Prize. She has taught creative writing at Columbia University, New York, and was, from 2015 to 2018, Distinguished Writer in Residence at the University of Surrey. Monica is a Trustee of the St Giles Trust, a charity that helps ex-offenders and other marginalised and disadvantaged people in the UK.