Hello From The Gillespies
book
| Fiction
| Nov 2014
UK →
Penguin
(Ed. Claire Pelly)
ANZ →
Penguin
(Ed. Ali Watts)
US →
Penguin
(Ed. Ellen Edwards)
International number one bestseller Monica McInerney brings us a sparkling and hilarious new novel about the ups and downs of family life.

For the last thirty years, Angela Gillespie's annual Christmas letter has been full of her family's triumphs. But this year Angela surprises everyone, including herself - she tells the truth.

Angela's husband is in the throes of a mid-life crisis. Her grown-up daughters are more out of control than ever. And her youngest child spends all of his time talking to an imaginary friend. With fantasy thoughts of a life before marriage and motherhood becoming more than just an innocent daydream, Angela's real life is slowly slipping out of focus.

But, as the repercussions of her ruthlessly honest letter begin to pile up, a shocking event takes Angela from her family, and she realises she should have been more careful of what she wished for. . .

Rights
Kate Cooper manages the translation rights for Hello From The Gillespies
Translation Rights Sold
French
World
Editions Bragelonne
German
World
Wilhelm Goldmann
Latvian
World
Apgads Kontinents
Lithuanian
World
Alma Littera Publishers
Media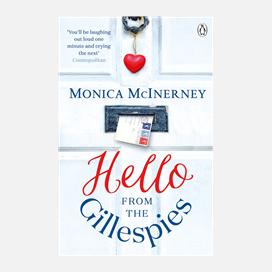 Reviews
Travel and family often provoke enough anxiety, each on their own; combined, they can drive you over the edge. Monica McInerney's laugh-inducing—and refreshingly honest—novel is the perfect antidote to both.

Oprah.com
Long a bestselling author in her native Australia, McInerney is becoming a must-read author for women's fiction fans around the world... McInerney is a perfect mix of the sweet humor of Maeve Binchy and the contemporary reality of Liane Moriarty.

Huffington Post USA
Readers who enjoy multicharacter, drama-laden family stories like those of Susan Wiggs or Maeve Binchy will find this episodic tale engaging. Its appeal lies in the evocation of the modern Australian outback; thorough descriptions of landscapes and the social norms of the -Gillespies' community lend authenticity to the story.

Library Journal USA
With deeply developed characters who will capture the heart, a plot that knows just when to twist and a cathartic marriage between the two protagonists, McInerney's novel is worth every page.

RT Reviews USA
McInerney's knack for characterization and the beautiful Australian setting make this heartwarming family story an enjoyable read.

Booklist USA
A satisfying family drama... McInerney writes with a deep respect for her characters. A book written with humor and charm.

Kirkus Reviews
A charming, heart-warming read. The characters are marvellous, the plot cracks along and McInerney ties up all the loose ends nicely. A wonderful read.

New Zealand Woman's Weekly
Eleven novels in, McInerney still has that magic touch, delving into the complexities of families, with beautiful South Australian backdrops and a sprinkling of Irish charm. She can make readers laugh and cry and surprise them with a twist.

Daily Telegraph Sydney
Monica McInerney is a master of the family drama as she moves effortlessly between recriminations and anger to hope and redemption.

The Advertiser, South Australia
An entertaining comedy of dramas.

New Idea Magazine, Australia
Monica McInerney is becoming a worthy successor to Maeve Binchy, to be relied upon for an enormously thick Christmas novel that you can't bear to put down. She knows family well.

Manly Daily, Sydney
A long family saga sprinkled with gentle humour... fans of this genre will love it. Snuggled up on the sofa with a hot chocolate on a cold night, they can catapult themselves into the searing heat of McInerney's beloved "sunburnt country". And realise that "dysfunctional" goes with "family" as universally as cup goes with saucer.

Irish Independent
With warmth, vivid characters, and a sharp eye toward observing twenty-first-century life, Monica McInerney isn't just one of my favourite writers from Down Under, but from anywhere.

Sally Koslow, author of The Widow Waltz
Such a brilliant "what if..." idea. A gloriously heart-warming book you totally lose yourself in.

Cathy Kelly, author of It Started with Paris
With the charm and humor that have caused comparisons to Maeve Binchy, Monica McInerny has penned a winning soap opera of a story that reads quickly...

Em Maxwell
Riffle Books
Full Review
There are so many different elements to this story: the family dynamics, the local politics, the landscape and history of the background, the emotion, the comedy – wow! I was really impressed and I think you will definitely find some part of this story with which you find yourself deeply connected.

Running n' Reading
Full Review