Confessions from Correspondentland
book
| Non-Fiction
| Jun 2012
ANZ →
William Heinemann Limited
How did Bill Clinton react when, in front of a ballroom full of over 2,000 people, he had to present the award for 'Journalist of the Year' to the reporter who discovered the existence of Monica Lewinsky's little blue dress? And what did Hillary Clinton make of it all?
Why did the BBC report on the night that Princess Diana was killed in a Paris underpass that she was walking around at the scene of the crash, and then continue to broadcast that she was alive even when it knew she was dead?
How did Bono help save the Northern Ireland peace process? Why is the real West Wing nothing like the television series? Why did Nick Bryant's hair catch alight as the Indian election reached its soaring climax? How did he end up sleeping through the biggest story of his life?
And was it truly the case, as the Pentagon tried to convince him, that enemy combatants held at Guantanamo Bay were rewarded with Happy Meals from the nearby McDonalds if they offered information on the whereabouts of Osama Bin Laden?
In
Confessions in Correspondentland
, one of the world's most experienced and trusted foreign correspondents provides the answers, and a unique and entertaining insight in to life as a foreign correspondent
Media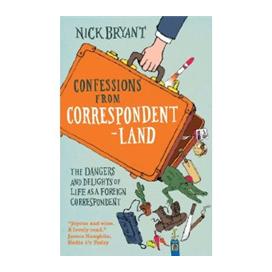 Reviews
A witty, informed portrait both of journalism and its subjects
Steven Carroll
The Saturday Age
Full Review
Correspondentland strikes the right balance of observation and insight, skilfully leavened with a helping of humour and a pinch of self-deprecation
Jonathan Este
The Weekend Australian
Nick Bryant is everything a foreign correspondent should be: fair minded, humane, witty and warm - his reporting shines with humanity and fun.
Justin Webb
the 'Today' programme
I hope when I finally grow up as a reporter, I have learned to report and write like Nick Bryant. He uses words like a musician uses notes, and was my inspiration when I was first trying to break into foreign correspondent reporting.
Alex Crawford OBE
Sky News special correspondent
The craftsman correspondent at work...joyous and wise. A lovely read.
James Naughtie
the 'Today' programme