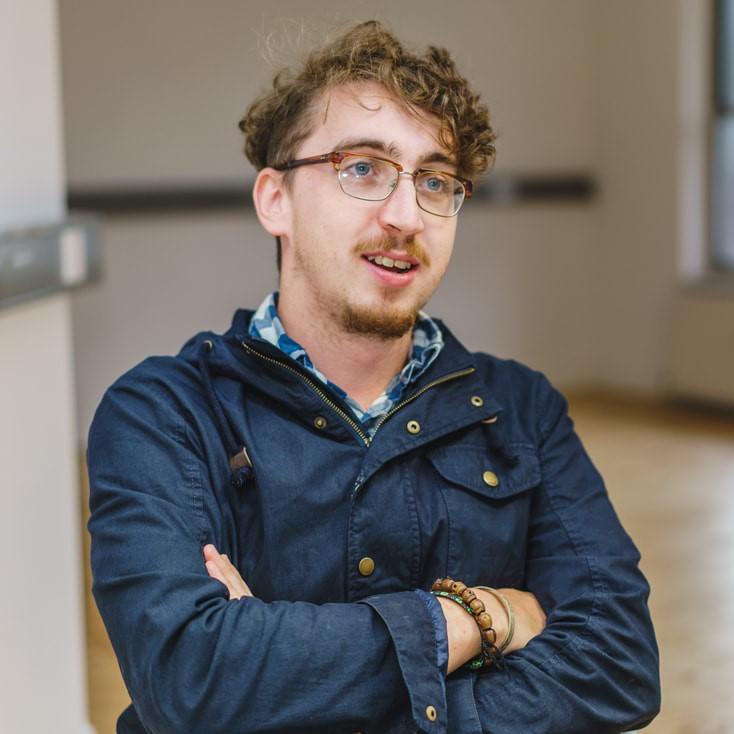 Oisín Kearney is an Irish Writer and Director for stage and screen.

He co-wrote and directed the one-man play 'My Left Nut', produced as part of 'Show in a Bag' programme, an initiative run by the Dublin Fringe Festival and Fishamble. It was nominated for the Best Show Under One Hour at the Dublin Fringe Awards and won a Summerhall Lustrum Award at the Edinburgh Fringe. His co-author Michael Patrick acted in the piece. The pair have since adapted the play into a 3x30' television series for BBC Three, which will be aired in late 2019/ early 2020.
Oisín and Michaels' second play 'The Alternative' was the winner of Fishamble's A Play for Ireland initiative. As part of its 30th year in 2018, Ireland's only Olivier winning theatre company set out to find one big, ambitious play, that bursts with humanity, and tackles a subject about which the playwright feels passionate - A PLAY FOR IRELAND. It premieres at the Dublin Theatre Festival in September 2019 and tours 6 theatres around the country. Oisín is one of 16 writers involved in BBC writers room's "Belfast Voices", developing talent in Northern Ireland.

Oisín has worked with Willy Russel, re-contextualising two of his plays to Belfast for the Lyric Theatre - Educating Rita (2016) and Shirley Valentine (2019). Oisín has Assistant Directed the Lyric's productions Educating Rita and Good Vibrations is the Lyric's trainee Assistant Director. He has worked as Assistant Producer on Oscar-longlisted and Emmy-nominated documentary ELIÁN, Irish box-office smash hit 66 DAYS, and recently directed his first feature documentary BOJAYÁ: Caught In The Crossfire.

Oisin and Michael's TV adaptation of their play My Left Nut for Rollem Productions/BBC3 was released to great acclaim. They currently have several new projects in development for TV.
Television
Co-writer
Producer
Kay Mellor & Tommy Bulfin
Starring
Sinead Keenan
Co- writer Michael Patrick

Based on true events in Michael's life. An adaptation of Michael and Oisín's smash hit play.

Rollem Productions
for
BBC Three
In development
Writer
Producer
Marie McDonald & Marc Mcelroy
Wrote various sketches for season 2 of this Northern Irish comedy. Created the character "Pastor John" for Welsh comedian Mick Bubbins.

Director
Feature length documentary following a community leader in Colombia working to protect his community and save the peace process, 16 years after his community facing the worst atrocity of the conflict.

Fine Point Films for Screen Ireland,
NI Screen,
KEW Media Corporation
Short documentary for Dutch TV on the rise of dissident republicanism among disillusioned young men in the wake of Brexit.

DEEP FOCUS Webdocs for NPO 2/HUMAN 200,000+ viewers
Short documentary for Dutch TV on the uncertainties in a town on the Irish border, following the Brexit vote.

DEEP FOCUS Webdocs for NPO 1 300,000+ viewers
BBC True North documentary on a female bodybuilder in Northern Ireland, and what the lifestyle entails.