Girl With A Pearl Earring
Nominated: BAFTA, Best Adapted Screenplay
film


(

Feature

)

Producer

Anand Tucker and Andy Paterson

Director

Peter Webber

Starring
Scarlett Johansson
Colin Firth
Tom Wilkinson
Judy Parfitt
Cillian Murphy

Distributor Pathe Production Company Archer Street Productions
The film tells a story about the events surrounding the creation of the painting "Girl With A Pearl Earring" by 17th century Dutch master Johannes Vermeer. Little is known about the girl in the painting, it is speculated that she was a maid who lived in the house of the painter along with his family and other servants, though there is no historical evidence .
Griet, played by Scarlett Johansson, is a maid in the house of painter Johannes Vermeer. Vermeer's wealthy patron and sole means of support, Van Ruijven, commissions him to paint Griet with the intent that he will have her for himself before it is finished. She must somehow secretly pose for the crucial painting without the knowledge of Vermeer's wife, avoid Van Ruijven's grasp, and protect herself from the cruel gossip of the world of a 17th century servant.
Girl with a Pearl Earring was released in 2003 and was nominated for three Oscars and ten BAFTAs, including Best Adapted Screenplay.
Media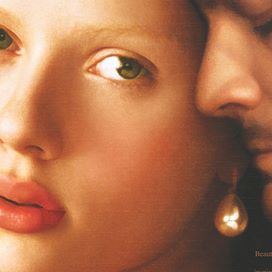 Reviews
this film doesn't just appeal to budding Vermeers but anyone who likes serious, intelligent drama and gentle erotic tension
Susan Hodgetts
BBC website
Though a work of fiction, the exquisite tale feels authentic thanks to the strong central performances and a naturalistic script that avoids tawdry melodrama.
SF
Radio Times