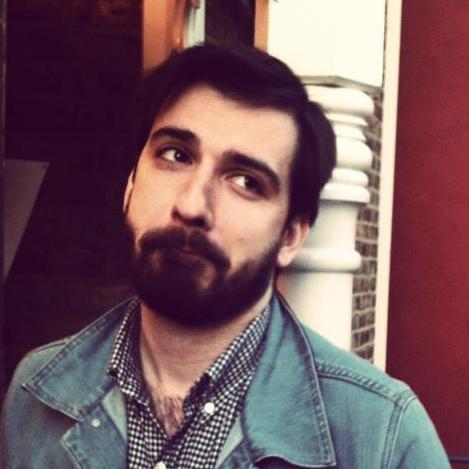 Omar


El-Khairy

Writer for theatre and film.
Omar is a writer for stage and screen.
For screen his work includes two feature projects with producer Dominic Buchanan, a feature with Elastic Films, and an original television drama with Firebird Pictures.

His plays include The Mob Reformers, Burst, Sour Lips, The Keepers of Infinite Space and The Chaplain and Homegrown.
Omar also holds a PhD in Sociology from the London School of Economics and Political Science.
Television
Writer
Producer
Carissa Hope-Lynch
Part of the 2018 Sky Table Reads series.
British student Karim who has suffered terrible nightmares since his mother's death a year ago. When he stumbles across an ancient Palmyran relic, the spectre that haunts Karim's dreams crosses over into real life.

Two Brothers Pictures
for

Sky Table Reads
Film
Writer
A reinterpretation of a classic genre - a short horror film about the terrors of race.
Supported by the BFI NETWORK
Like many of his generation, Ali has decided to run away from the hardships of war. Along the way, he meets a stranger at a bus stop - an encounter that will change everything ...
Theatre
Writer
Producer
Old Vic, New Voices
A psychological horror, written as part of the prestigious Old Vic 12, 2018.
A site-specific theatrical response to the phenomenon of young people leaving Britain to join Islamic State. The immersive piece explores the implications of radicalisation and extremism on the people and communities behind the headlines.
Homegrown was independently published in 2017.
Written as part of the Nabokov Latitude Festival's 'Reformation Nation' event uniting music, storytelling and spoken word on the dancefloor. DJ Sweetpea hosted by Deefa MC.
Producer
Plaines Plough in partnership with the Tamasha Developing Artists Programme.
Written as part of the Come to Where I'm From London series.
Producer
The Yard in association with Paper Tiger
Rahim lives in a peculiar state. When people approach him they see only his surroundings, themselves, or figments of their own imagination - indeed, everything and anything except him. But Rahim is no longer hiding from the world around him...
Producer
Bush Theatre and Rose Bruford College
Part of a tryptic of short plays exploring acts of love, violence and revolution, challenging our notions of compliance and conformism.
Bargehouse, Oxo Tower Wharf
Producer
Offstage Theatre and Underbelly Productions in association with Theatre Uncut
A short play as part of 'Walking the Tightrope' at the 2015 Edinburgh Fringe Festival.
Producer
Caroline Rooney and Chris Foxon
Saeed is a bookseller in Nablus, until one day he is arrested and thrown into gaol. As his future disappears, Saeed finds that the answer to his problems may lie in the past, and in the secrets his father has kept from him...
With three people, one room and a pool of unanswerable questions, we witness the human struggle to be satisfied with society and our lives in the 21st century.

Orange Tree Theatre, London
Producer
Ovalhouse in association with Paper Tiger
Director
Carissa Hope Lynch
DAMASCUS 18:00 - Amina was walking near Fares Al-Khouri Street when three armed men seized her. Amina's present location is still unknown.
An Ovalhouse Counter-Culture Commission.
Reaction piece to the play Charming Man by Gabriel Bisset-Smith.
Reaction piece to the play Breed by Lou Ramsden.

Producer
Old Vic New Voices
Director
Teunkie Van Der Sluijs
A short play, as part of the 2010 Old Vic New Voices T.S. Eliot Exchange.

With the recession beginning to bite and the impending threat of mass layoffs, workers at the New Media plant find themselves caught up in a bitter struggle with their employers. Ashley decides to take matters into his own hands.
Producer
Paper Tiger Productions
An independent nation rises from the rubble of a defeated colonial regime. A quixotic young Sudanese woman dreams of creating a better future. But her equally headstrong mother has other designs - and is hiding secrets of a turbulent past.
Director
Simeilia Hodge-Dallaway
Starring
Pippa Bennett-Warner
Nyasha Hatendi
James Le Feuvre
Shane Zaza
A grown-up fairytale of love and loyalty set in our world, but not just yet.