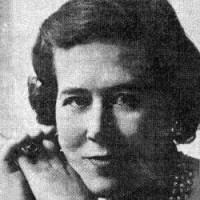 Pamela


Hansford Johnson


Novelist, playwright and poet

1912–1981
Pamela Hansford Johnson, Baroness Snow was an English novelist, playwright, poet, literary and social critic. She began her literary career by writing poems, which were published by Victor B. Neuburg in the Sunday Referee. Her first novel, This Bed Thy Centre, was published in 1935. In 1950, Pamela married the novelist C. P. Snow. She wrote 27 novels, thematically centred on the moral responsibility of the individual in their personal and social relations.
Hansford Johnson also wrote two detective novels, jointly with her first husband Neil Stewart, under the joint pseudonym, Nap Lombard. She wrote seven short plays, six of them in collaboration with C P Snow, and a number of critical works, short stories, verse and sociological studies, as well as a collection of autobiographical essays. She reviewed extensively for magazines and newspapers and broadcast on the radio programme The Critics. She held visiting academic positions at a number of North American universities including Harvard, Yale, Berkeley, Haverford, Cornell, Wesleyan. In 1963 she received an honorary degree from Temple University.
Selected Titles
This Bed Thy Centre (1935)
Blessed Above Women (1936)
World's End (1937)
The Monument (1938)
Too Dear for My Possessing (1940)
The Family Pattern (1942)
Winter Quarters (1943)
The Trojan Brothers (1944)
An Avenue of Stone (1947)
A Summer to Decide (1948)
The Philistines (1949)
Catherine Carter (1952)
An Impossible Marriage (1954)
The Last Resort (1956)
The Humbler Creation (1959)
An Error of Judgement (1962)
The Survival of the Fittest (1968)
The Honours Board (1970)
The Holiday Friend (1972)
The Good Listener (1975)
The Good Husband (1978)