Winner: BAFTA Television Awards 2011 - Best Drama Series
tv


Producer

Sue Vertue

Starring
Benedict Cumberbatch
Martin Freeman

Production Company Hartswood Films
Benedict Cumberbatch and Martin Freeman star in Sherlock, a thrilling, fast paced update of Arthur Conan Doyle's classic detective, set in present day London.
Co-created by the hugely talented partnership of Steven Moffat and Mark Gatiss and produced by Sue Vertue.
Two of three 90 minute films are directed by Paul McGuigan.
In this unique adaptation the iconic details from Conan Doyle's original books remain. They live at the same address, are only interested in the bizarre, and somewhere out there, Moriarty is waiting for them.
Award Nominations:
BAFTA Television Awards 2011 - YouTube Audience Award
BAFTA Television Craft Awards 2011 - Best Director (Fiction)
Broadcast Awards 2011 - Best Drama Series and Best New Drama
South Bank Sky Arts Awards - Best Drama
BANFF World Media Festival 'Fiction Rockies' - Continuing Series Programs
Media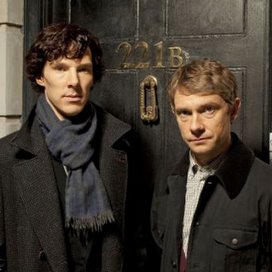 Reviews
The most unabashedly entertaining new show of the season
USA Today
The appeal is elementary: good, unpretentious fun, something that's in short supply around here.
The New York Times
The most exhilarating new series of the 2010-11 TV season.
Zap2it
A clever, edgy thriller that breathes new life into the legend, and not to be missed... Some viewers will recoil from the very idea of BBC1 updating Conan Doyle's characters to modern London... But the good news, it works. What could have been the defiling of a sacred text comes off superbly. Benedict Cumberbatch makes a disturbing, edgy Holmes [and] it's the understated Martin Freeman as Dr Watson who is the glue that holds the story together... providing a quietly brilliant foil as they tackle a series of linked suicides. There are sharp lines... well-worked thriller twists and a neat device of having words... appear on screen... But it's the central partnership that's key, and that looks as though it could run and run.
Radio Times
***** [five stars] Pick of the Day... This new three-parter turns [Sherlock] into an ultra-modern detective in the murder-mystery series of your dreams... The stars are perfect, the script is brilliant, it's stylish and even the theme tune is a triumph.
Heat
***** [five stars] Pick of the Day. Benedict Cumberbatch plays the razor-sharp but socially awkward consultant detective Holmes, while Martin Freeman is Watson, and both are entirely convincing in the first of three pacy crime capers. Outstanding.
TV Times
Benedict Cumberbatch [is] on blistering form... Written by Doctor Who's Steven Moffat and Mark Gatiss, this modern take on the Holmes legend is witty and very smart indeed.
Total TV Guide
[Holmes'] deductions are satisfyingly Holmesian... London is atmospherically shot or cannily recreated. Watson's arrival, too, is neatly handled, while the introduction of other old favourites is carried off with an outrageous flourish of misdirection worthy of, well, Sherlock Holmes.
Time Out
Dark and brilliantly acted.
Closer
A cross between WITHNAIL AND I and THE BOURNE ULTIMATUM.
The Observer
A lot of fun.
Independent
…a modern-dress Conan Doyle that crackles with superb writing, brilliant performances and snappy direction…
San Francisco Chronicle