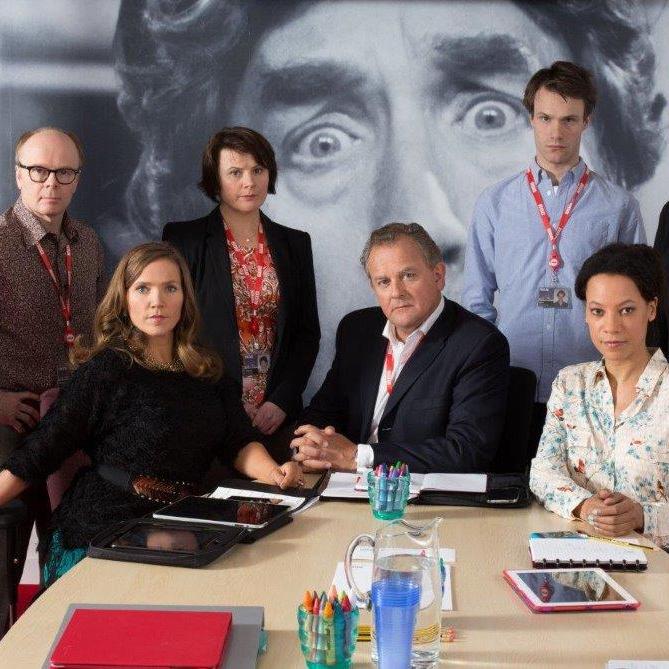 TV
Executive Producer
Starring
Ryan Sampson
Paul Ritter
Katherine Parkinson
Comedy pilot about bus tour guides written by and starring Ryan Sampson
Starring
Sheridan Smith
Phoebe Waller-Bridge
Esther Smith
Original comedy pilot by Oliver Lansley starring Sheridan Smith

Producer
Pat Lees and Angela Sinden
Writer
Justin Sbresni and Mark Bussell
Starring
Lee Boardman
William Ash
Craig Parkinson
Comedy drama following the misadventures of four former school friends
Writer
Peter Capaldi and Tony Roche
Starring
Peter Capaldi
Kelly Adams
Ben Aldridge
Spoof documentary for BBC Four
Director
Ben Gosling Fuller
Starring
David Mitchell
Robert Webb
Comedy sketch show featuring David Mitchell and Robert Webb
Producer
Alex Walsh-Taylor
Director
Catherine Morshead
Writer
Kevin Cecil & Andy Riley
Starring
Ruth Jones
Mark Heap
Steve Edge
Katherine Parkinson
Stephen Wight
Comedy which follows the hikes, heartaches, friendships and rivalries of a misfit rambling club
Director
Creator
Andy Hamilton and Guy Jenkin
Topical comedy set within the E.U. Referendum campaign following both camps along with political aides who serve Donald Trump and Vladimir Putin. A spin-off from 2015 comedy series Ballot Monkeys
Starring
Stephanie Beacham
Russ Abbot
Alison Steadman
June Whitfield
Creator
Andy Hamilton and Guy Jenkin
Starring
Sarah Hadland
Andy Nyman
Rhashan Stone
Satirical political comedy that focuses on the four main British political parties in the run up to the 2015 General Election
Starring
Kris Marshall
Andrew Scott
Stephen Merchant
Producer
Starring
Hugh Bonneville
Jessica Hynes
Sarah Parish
Nina Sosanya
Jason Watkins
Comedy follow up to Twenty Twelve, as former Olympic head of deliverance Ian Fletcher begins his new job as the BBC's head of values.
Director
Starring
Hugh Bonneville
Jessica Hynes
Olivia Colman
Amelia Bullmore
Comedy starring Hugh Bonneville, following the team responsible for delivering the biggest show on earth: the 2012 Olympics
Creator
Director
Starring
Sharon Horgan
Sarah Hadland
Benedict Cumberbatch
Comedy programme poking fun at the world of 24-hour rolling news channels
Writer
Andy Rattenbury, Guy Andrews, Mark Lawson, and Georgia Pritchett
Starring
Stephen Fry
James Lance
John Bird
Comedy series about the inner workings of a successful PR firm
Director
Jonathan Gershfield and Juliet May
Starring
Catherine Tate
Dawn French
Spoof arts show for the launch night of BBC Four.
Creator
Starring
Chris Langham
David Tennant
Robert Webb
Olivia Colman
Bill Nighy
Spoof fly-on-the-wall documentary series in which inept interviewer Roy Mallard investigates a different profession in each episode
Starring
John Bird
Sarah Lancashire
James Fleet
Comedy series set in perhaps the country's least spectacular law chambers
Starring
Alexander Armstrong
Doon Mackichan
Emma Pierson
Chronicling the lives of people working at a veterinary practice.
Creator
Charlie Higson and Paul Whitehouse
Director
Christine Gernon
Starring
Paul Whitehouse
Charlie Higson
Kathy Burke
TV film featuring Ted and Ralph characters from The Fast Show
Creator
Graham Fellows and Martin Willis
Starring
Graham Fellows
Peter Serafinowicz
Cheryl Baker
Radio
Head of Development
Paul was head of BBC Radio Comedy from 2005 - 2008. During his tenure he commissioned series ideas from David Nobbs, Micky Flanagan, Mark Watson and John Lloyd.
Production Company BBC Comedy

Producer
Produced and directed original plays from a range of writers including The Importance of Being Frank by Tom Holland (Sony Award nominated), and Almost Always African by Annie Caulfield.

Production Company BBC Radio Drama
Editor
Commissioned plays from a variety of new and emerging writers including Amanda Swift and Ian Macpherson.

Production Company BBC Radio