British Comedy Award: Best Comedy Newcomer
tv
Role Danny Spencer

Producer

Rosemary McGowan

Director

Declan Lowney

Starring
Pearce Quigley
Johnny Vegas

Production Company BBC Television
Paul co-wrote, produced and acted in two series of the BBC2 sitcom, Happiness. The sitcom opened a window to the day to day life of Danny Spencer (played by Paul), the creator and voice of Dexter - a seven-foot plasticine kung-fu nurse bear.

The bitter-sweet comedy followed Danny and his group of friends and their pursuit- successful or otherwise- of happiness.
Media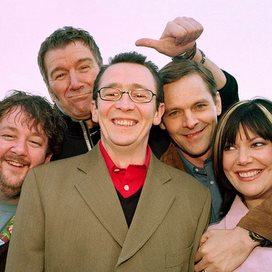 Reviews
The notion was that there's this bloke, quite well off, got a reasonably good career, he has no particular ties, and go on then, see if you can find happiness.
Paul Whitehouse
Guardian