book
| Fiction
| Jun 2018
US →
Skyhorse Publishing Inc
From a dazzling new voice in fiction, a propulsive rural thriller for fans of Breaking Bad and No Country for Old Men.
Ever since their father's untimely death five years ago, Wyatt Smith and his twin sister, Lucy, have scraped by alone on their family's isolated ranch in Box Elder County, Utah. That is until one morning when, just after spotting one of their bulls lying dead in the field, Wyatt is hit in the arm by a hail of gunfire that takes four more cattle with it. The shooter: a fever-eyed, fearsome girl-child with a TEC-9 in her left hand and a shotgun in her right. They hold the girl captive, but she breaks loose overnight and heads south into the desert. With the dawning realization that the loss of cattle will mean the certain loss of the ranch, Wyatt has no choice but to go after her and somehow find restitution for what's been lost.
Wyatt's decision sets him on an epic twelve-day odyssey through a nightmarish underworld he only half understands; a world that pitches him not only against the primordial ways of men and the beautiful yet brutally unforgiving landscape, but also against himself. As he winds his way down from the mountains of Box Elder to the mesas of Monument Valley and back, Wyatt is forced to look for the first time at who he is and what he's capable of, and how those hard truths set him irrevocably apart from the one person he's ever really known and loved.
Steeped in a mythic, wildly alive language of its own, and gripping from the first gunshot to the last, Rough Animals is a tour de force that is not to be missed.
Rights
Kate Cooper manages the translation rights for Rough Animals
Translation Rights Sold
French
World
Editions Du Seuil
Italian
World
Neri Pozza Editore
Media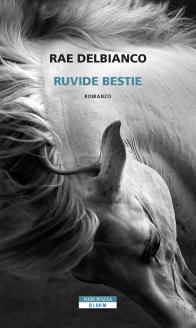 Reviews
A brilliant, incandescent debut that will remind everyone of a young Cormac McCarthy.

Philipp Meyer, author of American Rust and Pulitzer Prize finalist The Son
A wild and alive debut, full of grit, gunfire, blood, and bad news. Rough Animals is as phantasmagoric as McCarthy and as pitiless as Jim Thompson. A rare treat.

Joshua Ferris, bestselling author of The Dinner Party and Then We Came to the End
Rough Animals renders its portrait of brother-sister love and their pitiless world of the badlands of northern Utah with some of Denis Johnson's flamboyant lyricism, when it comes to longings for transcendence, and with more than a little of Cormac McCarthy's implacable vision of a world in which we survive by doing the thing most others could not bring themselves to do.

Jim Shepard, The Story Prize-winning author of The World to Come and Like You'd Understand, Anyway
In this high-octane, take-no-prisoners debut, Rae DelBianco portrays the mayhem and grit of the new West with the demon eye of Cormac McCarthy but a fierce heart very much her own. I dare you to draw a breath from beginning to end.

Julia Glass, National Book Award-winning author of A House Among the Trees and Three Junes
DelBianco's captivating debut Rough Animals stakes its claim to the modern Western, substituting assault weapons for six shooters and cartel members for the old fashioned gunslingers, in a story told with a style of classic American grit.

Douglas Brunt, New York Times bestselling author of Ghosts of Manhattan and The Means
Furious and electric debut [...] the novel succeeds as a viscerally evoked and sparely plotted fever dream, a bleakly realized odyssey through an American west populated by survivors and failed dreamers.

Starred Review, Publishers Weekly