They Think It's All Over...
tv


Producer

Harry Thompson

Director

Steve Smith

Starring
Rory Bremner
David Gower
Nick Hancock
Gary Lineker

Production Company TalkBack Thames
They Think It's All Over is the world's longest running comedy sports quiz, having run for over a decade. Presented by Nick Hancock, teams were captained originally by David Gower and Gary Lineker. Rory joined Gary as a regular panellist throughout the show's run to contend in various rounds to establish their sporting acumen.
Teams were tested by rounds such as 'Excuses' whereby each team has to guess the excuse a sportsman or team had given for a sporting or personal misdemeanour, or 'Feel the Sportsman', an aptly named test during which contestants were blindfolded and required to identify an athlete using only their hands!
Media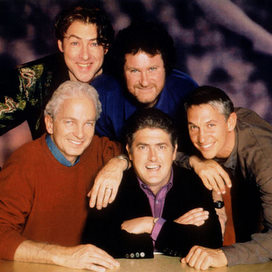 Reviews
Well Colin Montgomerie was rather sour. I don't think he understood that he was going to be insulted and just seemed rather hurt that a golfer of his achievements should be criticised as a pie-crazy, bra-wearing inadequate golfer. David Campese was another, surprisingly, and obviously Chris Eubank was a law unto himself.
Rory McGrath
Guardian
McGrath fits perfectly into the current vogue for laddishness in the British media.
BBC