tv


Producer

Charlotte Wyatt

Director

Michael Massey

Starring
Edward Barker
Diana Cook
Dara O'Briain

Production Company BBC Television
Dara O'Briain, Rory McGrath and Griff Rhys-Jones attempt to recreate the most popular comic novel of the Victorian era, Three Men in a Boat. Sailing from Kingston to Oxford in an exact replica of the wooden skiff used by author Jerome K Jerome, George, Harris and Montmorency the dog, the modern day comedians embarked on the original journey up the Thames.
While the trio's 'odyssey' could not be described as an exact replication of that narrated in the 19th century novel, they were moored where the characters moored, slept where the characters slept, and 116 years later, even managed to stay in some of the same guesthouses and pubs.
Media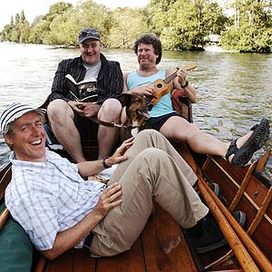 Reviews
"It's what Jerome would have wanted" became a mantra as we ditched all pretence at recreating JKJ's actual trip and decided simply to see what happened and tell some funny stories on the way.
Dara O'Briain
Daily Telegraph