film


(

Feature

)

Producer

Paul Webster

Starring
John Hurt
Helen Mirren
Sam Riley
Andrea Riseborough

Distributor Optimum Releasing Production Company Studio Canal
Rowan's adaptation of Graham Greene's classic novel follows Pinkie Brown, a teenage sociopath and up-and-coming gangster, as he attempts to gain control of Brighton's gangs.
Ida Arnold, a kind-hearted and decent woman, is drawn into the action by a chance meeting with the terrified Hale, whom Pinkie murders in obscure circumstances shortly afterwards. Pinkie's attempts to cover his tracks lead to a chain of fresh crimes and to an ill-fated marriage to Rose, a waitress who has the power to destroy his alibi. Ida pursues Pinkie relentlessly, in part to protect Rose from the deeply disturbed boy she has married.
Set against the backdrop of 1960s Brighton and the ongoing youth riots between the mods and rockers Brighton Rock charts the seedy underworld of this seaside resort.
Media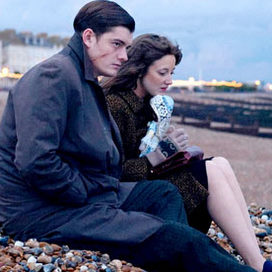 Reviews
Film of the week
Danny Leigh
Film 2011
updated cleverly...The film has style, verve, craft and not least a knowledge of when to lie low and let Greene's story speak for itself.
Nigel Andrews
Financial Times
Full Review
it is clear from the outset that [Rowan Joffe] is quite ready to blaze his own trail.
The Guardian
Brighton Rocks!

a superior piece of British film-making
Matthew Bond
The Mail on Sunday
Full Review
Film of the Week

a harmonious synthesis of overwrought melodrama and thematic intensity
Laurence Phelan
The Independent
Full Review
a clear-eyed, cool adaptation of Graham Greene's book for a new generation
Kate Muir
The Times
Full Review
Rowan Joffe's Brighton Rock takes a genuine British classic and gives it a 60s sheen – the result is bold, compelling and visually razor-sharp.
Danny Leigh
Film 2010
NYT Critics' Pick - Mr. Joffe has turned "Brighton Rock" into a full-scale film noir with the stylistic undertow of a more modern British gangster movie

Stephen Holden
New York Times