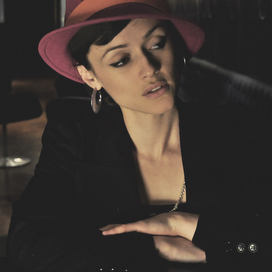 Sabrina has recently been called '[one of] our most interesting playwrights' by Lyn Gardner in the Guardian and 'theatrical dynamite' by the Independent. Her theatre work includes Chef, a play about an inmate of a woman's prison who is also a haute cuisine chef, which won a Fringe First Award and was nominated for multiple international awards; Dry Ice, her first play based on her time working in stripclubs, directed by David Schwimmer and for which she was nominated as Best Solo Performer in The Stage Awards for Acting Excellence. Clean, a play about three women who work in the criminal underworld, which won a Herald Angel Award and transferred from Traverse Theatre in Edinburgh to Off-Broadway in 2015; With a Little Bit of Luck, a gig theatre piece with a live UK Garage score about a young woman's coming of age in 2001, which has been performed across the UK, including at the National Theatre and the Roundhouse and will be the first ever radio drama on BBC 1xtra.

Eight of her plays are published by Bloomsbury Methuen. Her poetry collection about sex work, How You Might Know Me (Out-Spoken Press), was a 2017 Guardian Best Summer Reads. She is currently writing her first feature film, about the legendary UK producer and rapper Wiley, for Pulse Films.

Sabrina is the editor of the critically acclaimed anthology The Things I Would Tell You: British Muslim Women Write (Saqi Books), a Guardian Book of the Year and is an essay contributor to the multi-award-winning The Good Immigrant (Unbound), exploring her mixed racial heritage through the lens of British fashion. She received a 2017 Society of Authors Award to complete her first novel and has won the 2018 King's Arts & Culture Alumni Award for inspiring change in the creative industries.
Sabrina has been the Sky Arts Academy Scholar for Poetry; Creative in Residence at The Hospital Club; Poet in Residence at Cape Farewell; Leverhulme Playwright in Residence and Associate Artist at the Bush Theatre. She has facilitated writing workshops in prisons, schools and charities for the Royal Court, the National Theatre, The Poetry Society, the World Economic Forum, Clean Break and many others.

Theatre
Director
Five spoken-word poets perform new work from their debut solo shows as part of the Bush's RADAR new writing festival
Television
Writer & Performer
Writer
The Space
for
BBC iPlayer
Drama series to be broadcast as digital content on Snapchat.
That Lot, The Forge, and Channel 4
for
Snapchat
Film
Writer
About the UK producer and rapper Wiley.

Radio
Writer
An hour long radio adaptation of Sabrina's play.
Production Company BBC Radio 1Xtra