book
| Fiction
| Mar 2020
UK & Comm →
Picador Books
(Ed. Francesca Main)
Jack is a man of few words, married to a woman of many. He and Bet have been together for seventy years — almost a lifetime — and happily so, for the most part.

All Jack and Bet want to do is enjoy the time they have left together, in the flat they have tried to make their home. Though their son Tommy has other ideas. He wants them to move out and get more help, but Jack and Bet think they can manage just fine.

When they strike up an unlikely friendship with Marinela, a young Romanian woman, Bet thinks she has found the perfect solution — one that could change Marinela's life as well as theirs. But this means revisiting an old love affair, and confronting a long-buried secret she has kept hidden from everyone, even Jack, for many years.

Tender, moving, and beautifully told, Jack and Bet is an unforgettable novel about love and loss, the joys and regrets of a long marriage, and the struggle to find a place to call home.


Rights
Film Rights
Available
Contact Luke Speed for more information
Katie McGowan manages the translation rights for Jack and Bet
Media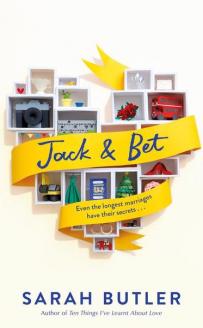 Reviews
I look forward to Sarah Butler's books which are always honest and tender. Jack & Bet is a moving yet unsentimental story about family and love and the secrets we live with.
Paul McVeigh
Author of The Good Son
Sarah Butler hooks you with the controlled power of her writing, her eye for detail and her feel for the secrets hidden within everyday lives. Jack & Bet is at once the portrait of a marriage and a corner of London in transition. With mounting tension, it demonstrates why it's never too
late to have your world turned upside down.
Oliver Harris
Author of A Shadow Intelligence