book
| Fiction
| May 2015
UK & Comm →
Orion Publishing Group
(Ed. Bill Massey)
US →
St Martin's Press Inc
(Ed. Charlie Spicer)
A serial killer is on the loose, and three years into his career the authorities are no nearer to catching him. The remains of his victims turn up all over the US, linked only by the bizarre objects he leaves buried in their mutilated bodies. But are the objects clues—or the killer's joke at the police's expense?

San Francisco Homicide Detective Valerie Hart has been working the case too long. Haunted by demons of her own, drifting into a serious drink problem and close to complete burn-out, she's on the edge of losing her job and her sanity - until the reappearance of an old lover provides a crucial breakthrough, and Valerie is pitched into a race to save the life of what will be the killer's next victim: a ten-year-old girl, trapped in a remote cabin in the snow-bound Coloradan wilderness...

In this extraordinary, pulse-pounding debut, Saul Black takes us deep into the mind of a psychopath, and into the troubled hearts and souls of the ordinary men and women tasked with stopping him.

Rights
Film Rights
Available
Contact Nick Marston for more information
Audio Rights
Available
The audio rights are handled by Alice Lutyens.
Kate Cooper manages the translation rights for The Killing Lessons
Translation Rights Sold
Finnish
World
Like Kustannus
French
World
Presses De La Cite
German
World
Droemer Verlag
Greek
World
Harlenic Hellas
Italian
World
Arnoldo Mondadori Editore
Japanese
World
Villagebooks
Norwegian
World
Cappelen Damm
Portuguese
Brazil
Editora Intrinseca
Spanish
World
Ediciones Urano
Turkish
World
Koridor Yayincilik
Media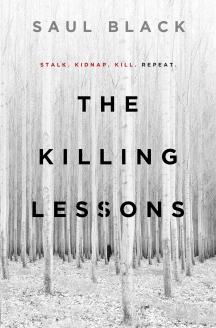 Reviews
[An] exceptional police thriller from Black
Starred Review
Publishers Weekly
Full Review
Black (aka Glen Duncan, I Lucifer) has written a taut, smart thriller guaranteed to keep readers on the edge of their seats. Not to be missed.
Cynthia Price & Francis Marion
Library Journal
Full Review
Unbelievably good...this one has it all.

Lee Child
The Killing Lessons is the best thriller I've read in years.It's mind-blowing, terrifying, visceral, disturbing, and gorgeously written...
Chevy Stevens, New York Times bestselling author of That Night
Full Review
Completely mesmerizing! Black delivers a powerhouse of a thriller: two terrifying villains versus one damaged cop with numerous lives in the balance. Not to be missed.
Lisa Gardner, New York Times bestselling author of Fear Nothing
As much as I love writing police procedurals, what I love to read are good, solid psychological thrillers. There's nothing better than a skilled author taking us deep into the minds of those who revel in evil—and of those who try to bring them to justice. This describes The Killing Lessons to a T.

Jeffery Deaver
Full Review
Do not read this. No reader deserves to be terrified like this.

Linwood Barclay
The Killing Lessons is the freshest, scariest and most intelligent serial killer novel I've read in years; taut, tense, beautifully written and gripping.

Stav Sherez
The Killing Lessons is a dark, twisted, and deeply compelling read. Saul Black perfectly inhabits each of his characters, even the most deranged among them, and weaves a breathless thriller that is as beautiful as it is terrifying.

Lisa Unger
"For nine months The Girl on the Train has been lauded as the best thriller of 2015, but it has some real competition with the arrival of The Killing Lessons, a dark, violent novel from British author Glen Duncan (The Last Werewolf) writing under the pseudonym Saul Black."

Bookpage
Writers may change their names, but they never lose their style. Saul Black (aka Glen Duncan) has taken on the darkest corner of the crime genre and produced a thriller that breathes new life into serial killer fiction. The Killing Lessons made my knuckles go white as I gripped the pages.

Michael Robotham
The troubled, vulnerable Valerie is a strong and believable character, and she and her colleagues amount to an unusually admiring portrait of police work… Black squeezes every last ounce of suspense out of this story. One violent climax follows another…'The Killing Lessons' is state of the art in the ever-darkening serial-killer genre.

The Washington Post
All of the serial-killer staples are accounted for: self-destructing detective, slippery killer, and sympathetic future victims. But Black, a pseudonym for acclaimed dark-fantasy author Glen Duncan (The Last Werewolf, 2011), twists the formula with a killer who defies the coldly calculating criminal mastermind archetype, an unblinking willingness to off characters he's convinced readers to like, and a hokum-free thread of reawakening lost souls. A serial-murder tale in league with the best of Lauren Beukes and Chelsea Cain: that means must-read for those who like their psychological thrillers raw

Booklist (starred)
Shockingly good writing…It's impossible not to be swept away by its propulsive momentum. The appeal of this dark and intensely disquieting book isn't entirely visceral either. By shifting the narrative point of view, Black allows us to peer into the depths of his many richly developed characters, from the surprisingly complex killers and their dedicated hunters to the supporting players who pop up only to be ruthlessly disposed of.

New York Times
If you want to ruin a perfectly good weekend with a gut-wrenching, spine-tingling, deeply disturbing, edge-of-the-seat-thrilling crime novel, The Killing Lessons is your ticket. Beware.

Chris Pavone
Raw and utterly readable

Kirkus Review (starred)
Full Review