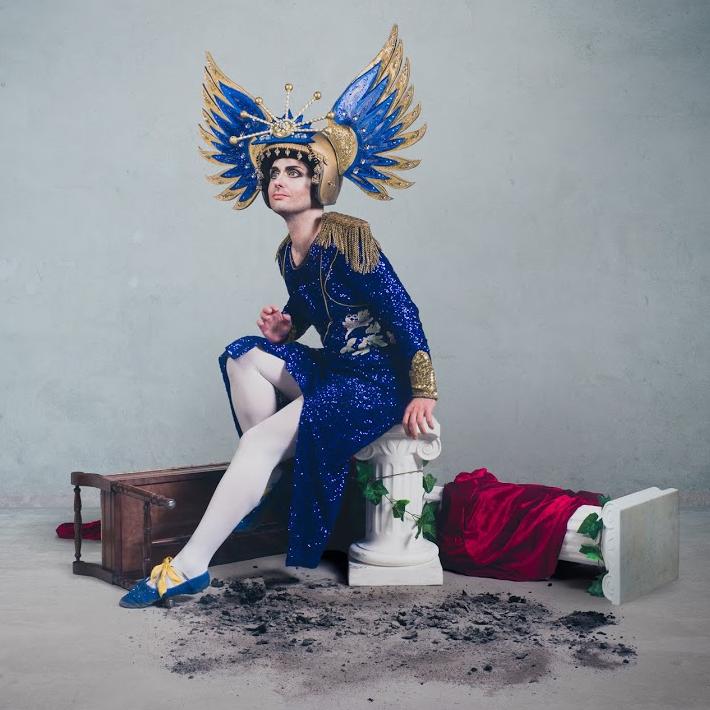 Seiriol (pronounced SAY-ree-oll) is from Anglesey, the island on the top of Wales. It sometimes gets left off maps, but it is there; there's a Waitrose now and everything. He speaks Welsh and some English and sings and acts and writes and composes. He trained at LISPA and started out in cabaret. He has worked with Punchdrunk, Gideon Reeling and Brian Catling, is a founder member of Brighton art collective / record label Beatabet, and tragi-glam rock band Temper Temper, and was half of cult punk music hall turn Underbling & Vow.

He now works primarily in theatre. In 2016, he wrote and starred in his first musical, the acclaimed How to Win Against History, which premiered at the Edinburgh Fringe in 2016 and was the #1 best-reviewed show of the festival. It returned to the Fringe in 2017 before touring widely and transferring to a sell-out run at the Young Vic in London. It won several awards, including The Stage Edinburgh Award and a Wales Theatre Award (Best Touring Production). Seiriol was also nominated for a UK Theatre Award for Best Performance in a Musical for his portrayal of Henry.

He also plays well with others. As an actor, writer and composer, he has worked with all sorts, like The Old Vic, the Gate Theatre, English National Opera, National Theatre Wales, the Lyceum in Edinburgh, and many others.

He is currently working on numerous new and exciting projects to be announced in the coming months, as well as the follow-up to How to Win, the ravishing small-town epic Milky Peaks at Theatr Clwyd. He is also writing new original theatre pieces for National Theatre of Wales, Manchester Royal Exchange and Sherman Cymru.

Theatre
Writer
In development with Theatr Clwyd and Áine Flanagan Productions; supported by the National Theatre New Work Department.





A series of monologues celebrating 70 years of the NHS.
How To Win Against History
Wales Theatre Award: Best Touring Production (English); The Stage Edinburgh Award; The Broadway Baby Bobby Award
Producer
Aine Flanagan Productions
Starring
Matthew Blake
Matthew Blake
A hilarious musical about the 5th Marquis of Anglesey, one of the Earth's wealthiest men until he lost it all by being too damn fabulous.
Gate Theatre, English National Opera
Islands
British Council Edinburgh Showcase 2015
Producer
Caroline Horton & Company
Bush Theatre, Edinburgh Fringe
Starring
Daniel Copeland
Jennifer Lee
Carola Stewart
Julia Voce
Play set in an old people's home
Director
Camille Cettina & Julia Voce
Director
Seiriol Davies, Karim Muasher & Ryan Underbakke
Starring
Karim Muasher
Ryan Underbakke
Play about three men who set off to find a rare bird. Co-written with Ryan Underbakke & Karim Muasher
Bedlam Theater, Cincinatti Festival
Producer
London Bubble Theatre
Piece about a night in London when all the lights go out, based on exploratory workshops with London Bubble Theatre company
Writer & Production Dramaturg
Director
Sophie Hunter and Vanessa-Faye Stanley
Script and dramaturg for piece exploring the advent of electricity
Television
Creator & Writer