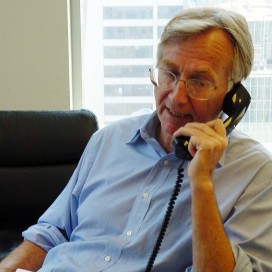 Seymour


M. Hersh


American non-fiction writer
ICM Partners
Seymour Hersh is one of America's premier investigative reporters. His journalism and publishing awards include a Pulitzer Prize, five George Polk Awards, two National Magazine Awards, and more than a dozen other prizes for investigative reporting.

In 1969 he wrote the first account of the My Lai massacre in South Vietnam for which he received the 1970 Pulitzer Prize for International Reporting. In the 1970s he worked at the New York Times in Washington and New York. He has been a regular contributor to The New Yorker magazine since 1993. As a staff writer there, Hersh won a National Magazine Award for Public Interest for his 2003 articles "Lunch with the Chairman," "Selective Intelligence," and "The Stovepipe." In 2004, Hersh exposed the Abu Ghraib prison scandal in a series of pieces in the magazine for which he again received a National Magazine Award for Public Interest, an Overseas Press Club award, the National Press Foundation's Kiplinger Distinguished Contributions to Journalism award, and his fifth George Polk Award, making him that award's most honoured laureate.

He lives in Washington, D.C.

Outstanding…Rarely has a journalist's memoir come together so well, with admirable measures of self-deprecation, transparent pride, readable prose style, and honesty.
Kirkus
on Reporter
The Pulitzer Prize winner builds on his reputation as an iconic investigative journalist, skewering the conventional wisdom about the death of Osama bin Laden.
Kirkus Reviews
on The Killing of Osama bin Laden
Hersh has found more muck in this particular Augean stable than most people want to acknowledge.
Gore Vidal
on The Dark Side of Camelot
Hersh remains at the vanguard of tenacious and purposeful writers who speak truth to power [...].
Booklist (starred review)
on Reporter