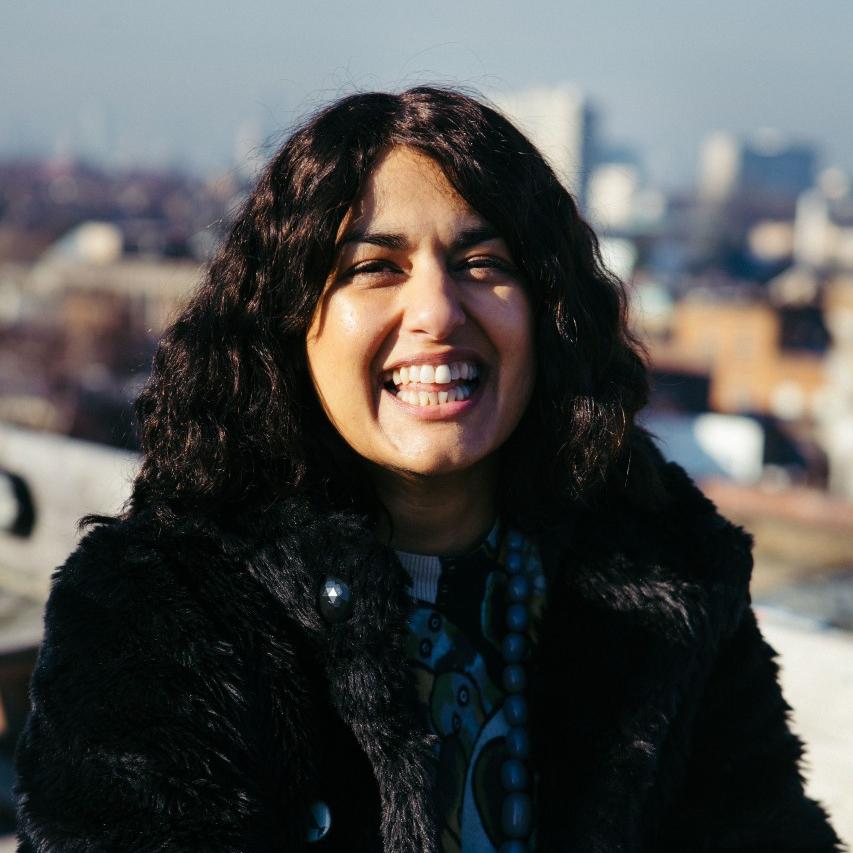 Sonali


Bhattacharyya

Playwright and Screenwriter
Sonali Bhattacharyya is an award-winning playwright and screenwriter (Sonia Friedman Production Award and Theatre Uncut Political Playwriting Award for Chasing Hares).
Her plays include Chasing Hares (Young Vic), Two Billion Beats (Orange Tree Theatre), Megaball (National Theatre Learning), Slummers (Cardboard Citizens/Bunker Theatre), The Invisible Boy (Kiln Theatre) and 2066 (Almeida Theatre).
Sonali is a graduate of the Royal Court Writers' Group, the Old Vic 12, and Donmar Warehouse Future Forms Programme and recipient of the Bertha Foundation Artivism Award. She is currently under commission to Fifth Word, Kiln Theatre, Tara Arts and Donmar Warehouse, and is developing a drama series for television with Dancing Ledge Productions and an Augmented Reality project with Anagram.
Website: https://www.sonaliwrites.com/
Theatre
Writer
Chasing Hares presents the Jatra (Bengali folk theatre) stage, the factory floor and the routes of delivery drivers as sites of resistance and transformation in Britain and India.

Winner of the Sonia Friedman Production Award and Theatre Uncut Political Playwriting Award.


Starring
Safiyya Ingar
Anoushka Chadha
Schoolgirl Asha grapples with her place in the world, the legacy of colonialism, and a hamster.
A musical for National Theatre Learning's 'Let's Play' programme for primary schools. Iman might not be sporty or popular, but her imagination's big enough to invent a new sport that takes over the school and puts her and the other misfits centre stage. Music by Harry Blake.
National Theatre Learning
Producer
Cardboard Citizens
For Cardboard Citizens' 'Home Truths' season at The Bunker, an immersive multi-story speculation on need, greed and good intentions. Slummers explores the role of charity in housing, and the precariously fine line between being viewed as 'good poor' or 'bad poor'.
For Kiln Theatre's 'Mapping Brent' festival. A funny, spooky story about friendship, loyalty, and how complicated things can get when you're a teenage boy.
Starring
Sophie Melville
Sara Goddard
For Almeida Participation. '2066' imagines a future without universal healthcare and the impossible decisions this leaves a mother and her daughter.

Television
Writer & Creator
A drama about the collapse of the Rana Plaza factory in Bangladesh.
Dancing Ledge Productions
In development