One of the outstanding mysteries of the twentieth century, and one with huge political resonance, is the death of Dag Hammarskjöld and his UN team in a plane crash in central Africa in 1961. Just minutes after midnight, his aircraft plunged into thick forest in the British colony of Northern Rhodesia (Zambia), abruptly ending his mission to bring peace to the Congo. Many around the world suspected sabotage, accusing multinationals and the governments of Britain, Belgium, the USA and South Africa of involvement in the disaster. These suspicions have never gone away.

Susan Williams argues that the official inquiry by the Rhodesian government was a massive cover-up that suppressed and dismissed a mass of crucial evidence pointing to foul play. Who Killed Hammarskjöld? follows the author on her intriguing and often frightening research, which unearthed a mass of new and hitherto secret documentary and photographic evidence.

At the heart of this book is Hammarskjöld himself – a courageous and complex idealist, who sought to shield the newly independent nations of the world from the predatory instincts of the Great Powers. It reveals that the conflict in the Congo was driven not so much by internal divisions, as by the Cold War and by the West's determination to keep real power from the hands of the post-colonial governments of Africa. It shows, too, that the British settlers of Rhodesia would maintain white minority rule at all costs.

Media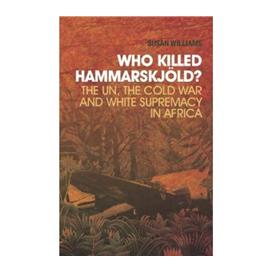 Reviews
[Williams] has done a fine job of marshalling new evidence and painting a vivid picture of a past era of Rhodesian colonists in long socks and white shorts, and of cold war politics played out through vicious proxy wars in Africa
The Sunday Times