Tim Marlow with... Gilbert & George
tv


Producer

Phil Grabsky

Director

Ben Harding

Starring
George Passmore
Gilbert Proesch

Production Company Seventh Art Productions
Art historian Tim Marlow met the creative duo for a walk around their new exhibition: 'Gilbert & George: Major Exhibition', at the Tate Modern.
Arguably the most eccentric artistic double act and self-proclaimed living sculptures, Gilbert Proesch and George Passmore guided Tim around their feted exhibition as they discussed art, religion and the environment. The pair became famous in the early 1970s as performance artists, but later became famous for their controversial large scale photo-montages. Talking to Tim, they revealed how it feels to be ostracized by the art community and the media, as they continue to push the boundaries of art, society, good taste, and decency.
Media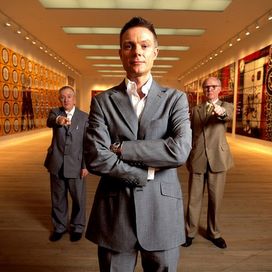 Reviews
Their pictures capture a broad human experience, encompassing an astonishing range of emotions and themes, from rural idylls to gritty images of a decaying London; from fantastical brightly-coloured panoramas to raw examinations of humanity stripped bare; from sex advertisements to religious fundamentalism.
Tate Modern
Our art is capable of bringing out the bigot inside the liberal, and the liberal inside the bigot. A taxi driver who thinks that all modern art is ­rubbish will say to us, 'It's good what you do, guys.'
Gilbert Proesch
Guardian