Presenters | Jul 15, 2015
Annie Nightingale's Masterpiece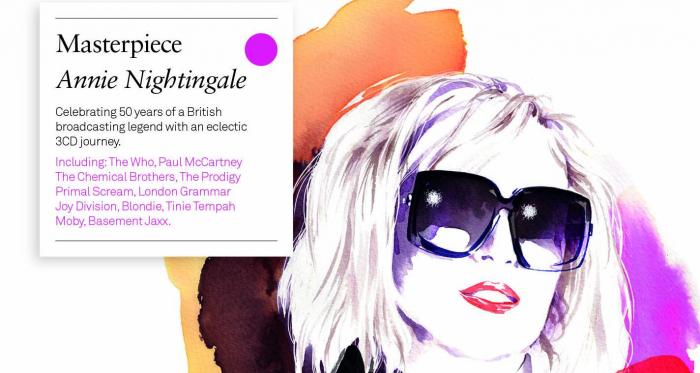 Annie Nightingale MBE becomes the first female to front Ministry of Sound's Masterpiece series.
Ministry of Sound's Masterpiece series represents an opportunity for highly respected, pioneering acts to curate a three-disc musical journey of their influences and inspirations. Past editions have been compiled by the likes of Armand van Helden, Goldie, David Rodigan and many more.
Best known as the first female DJ on the BBC, Annie Nightingale, has created a unique legacy in British music history. As Radio 1's longest serving broadcaster, she is revered for her remarkable impact on the UK's musical heritage. Masterpiece will be a milestone release in being the first to encompass Annie's entire career in broadcasting.
The three disc compilation includes Miss You by The Rolling Stones (who at the time of writing had never agreed to be on a compilation that isn't made up of all their own tracks), Don't Fight It by Primal Screen to Hey Now (Tensnake Remix) by London Grammar. It is through these sounds that Annie has shaped the sounds of British radio for close to 50 years.
Annie Nightingale's Masterpiece is available from 17th July 2015.