Books | Dec 18, 2019
Christmas bestsellers at Curtis Brown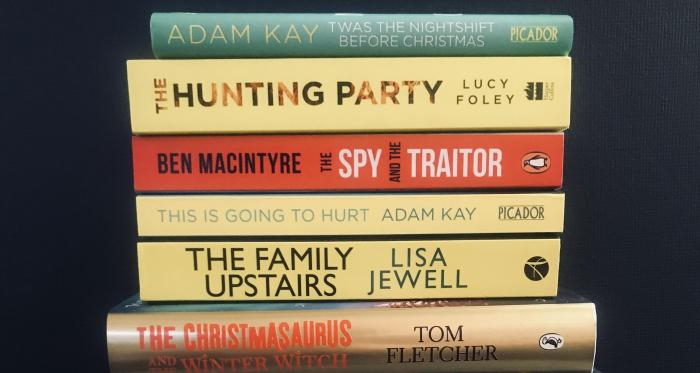 The festive period is truly upon us, and we are delighted to share our bestsellers in this week's Sunday Times books chart, several of which have now sold over 100,000 copies.

Adam Kay's runaway bestseller This is Going to Hurt spends its sixtieth week at number one in General Paperback, with the chart also seeing a re-entry from Ben Macintyre, as The Spy and the Traitor lands at number ten.

The second book from Kay, Twas the Nightshift Before Christmas, a collection of festive hospital diaries, takes the number two spot in General Hardback. Anne Glenconner continues her reign in the same chart with her memoir, Lady in Waiting, which features at number six.

In the Fiction Paperback chart, Lucy Foley takes the top spot for the third week running with her gripping thriller, The Hunting Party, whilst Lisa Jewell enters the chart at number two with another gripping thriller, The Family Upstairs. The Fiction Hardback chart is dominated by Curtis Brown titles, including Booker Prize winning novels The Testaments and Girl, Woman, Other by Margaret Atwood and Bernardine Evaristo respectively. John le Carré's espionage tale Agent Running in the Field, and Jojo Moyes' historical drama The Giver of Stars also feature in the top ten.

In the Children's chart, Tom Fletcher's enchanting The Christmasaurus and the Winter Witch is number five.

For the full list of Curtis Brown's Sunday Times bestseller titles this week, please see below.


Sunday Times General Hardback

#2. Adam Kay, Twas The Nightshift Before Christmas. Picador
CB Agent: Cathryn Summerhayes

#6. Anne Glenconner, Lady in Waiting. Hodder
CB Agent: Gordon Wise

Sunday Times General Paperback

#1. Adam Kay, This is Going to Hurt. Picador
CB Agent: Cathryn Summerhayes

#10. Ben Macintyre, The Spy and the Traitor. Penguin
CB Agent: Jonny Geller

Sunday Times Fiction Hardback:
#2. Margaret Atwood, The Testaments. Chatto and Windus
CB Agent: Karolina Sutton

#5. John le Carré, Agent Running in the Field. Penguin
CB Agent: Jonny Geller

#7. Jojo Moyes, The Giver of Stars. Michael Joseph
CB Agent: Sheila Crowley

#9. Bernardine Evaristo, Girl, Woman, Other. Penguin
CB Agent: Karolina Sutton

Sunday Times Fiction Paperback:

#1. Lucy Foley, The Hunting Party. Harper Collins
CB Agent: Cathryn Summerhayes

#2. Lisa Jewell, The Family Upstairs. Century
CB Agent: Jonny Geller

Sunday Times Children's

#5. Tom Fletcher, The Christmasaurus and the Winter Witch. Penguin
CB Agent: Stephanie Thwaites