Actors | Sep 3, 2015
Cradle to Grave begins on BBC2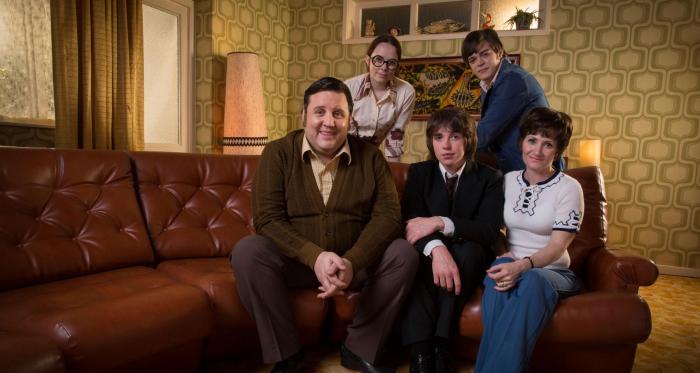 Frankie Wilson, Gerard Horan, Mark Hadfield, Laura Checkley, John Henshaw and Brian Fletcher star alongside Peter Kay and Lucy Speed in the new BBC2 comedy series Cradle to Grave based on the early life of radio DJ, journalist and writer Danny Baker.
Set in 1974, the series begins with 15-year-old Danny who is about to get an experience he will never forget when his older sister Sharon and her plimsole-wearing boyfriend take him to a West End theatre.

Frankie Wilson plays the series regular role of Danny Baker's 16 year old son, Michael, a typical teenager who is enjoying experimenting with the 'latest fashion'. Frankie has most recently shot a guest role in the second series of BAFTA winning comedy Detectorists for BBC4.
Brian Fletcher appears throughout as Tommy Hodges, one of Danny's gang of mates.
Gerard Horan guest leads as Alderman Trump. Gerard has just finished filming Disney's live action Beauty and The Beast in which he plays Jean the Potter opposite Emma Thompson.
Mark Hadfield plays Bill Hodges, a local shopkeeper with the manner of a country gentleman. Mark recently starred in Mrs Henderson Presents at Theatre Royal Bath and prior to that played a leading role in Made in Dagenham at the Adelphi Theatre opposite Gemma Arterton.
Laura Checkley plays old friend of the Baker's, Lil Shaw. Laura has just finished shooting a returning role in the second series of BAFTA winning comedy Detectorists for BBC4.
John Henshaw plays Mr Glover. John's television credits include ITV's Downton Abbey and BBC's By Any Means. He has just finished shooting Swallows and Amazons for BBC Films and most recently starred as Sheridan Smith's father in ITV's Cilla.
Created by Jeff Pope and Danny Baker. Cradle to Grave starts on BBC2 at 9pm on Thursday 3rd September.
http://www.radiotimes.com/episode/drkd92/cradle-to-grave--series-1---episode-1