Books | Dec 9, 2016
Curtis Brown Bestsellers and Review Picks of 2016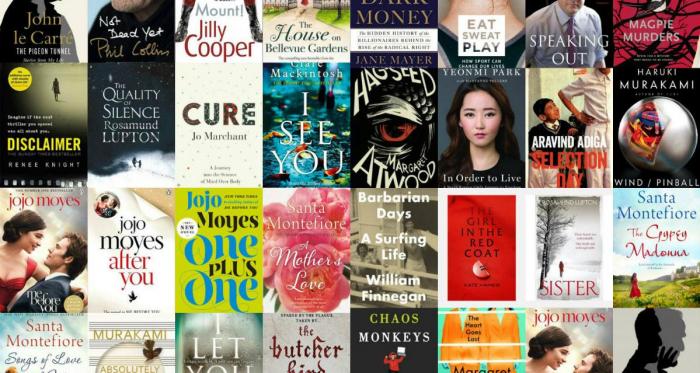 We are delighted to announce that many Curtis Brown authors have been featured on bestseller lists throughout the year and end of year review features for 2016.

Over the course of the year, the following authors and their
respective titles have been Sunday Times Bestsellers: John le Carré's Pigeon
Tunnel, Phil Collins' Not Dead Yet, Jilly Cooper's Mount!, Rachel Hore's The
House on Bellevue Gardens, Renee Knight's Disclaimer, Rosamund Lupton's The
Quality of Silence, Clare Mackintosh's I See You, Jo Marchant's Cure, Jojo
Moyes' Me Before You, After You and One Plus One, along with Santa
Montefiore's A Mother's Love, Songs of Love and War, Daughters of Castle
Deverill and The Gypsy Madonna.
Clare Mackintosh's I Let You Go and S. D. Sykes' The Butcher Bird were featured in The New York Times' The 10 Best Crime Novels of 2016. Jane Mayer's Dark Money: The Hidden History of the Billionaires Behind the Rise of the Radical Right was listed as one of The New York Times' The 10 Best Books of 2016. Clare Mackintosh's and Jojo Moyes' novels were also listed as New York Times Bestsellers throughout the year.
A number of clients have been featured in the Guardian Books throughout 2016. Anna Kessel's Eat Sweat Play and Willian Finnegan's Barbarian Days have been listed on the Guardian's Best Sports Book of the Year. Haruki Murakami's Absolutely on Music was listed on the Best Music Books of 2016 list, Ed Balls' Speaking Out was listed as one of the Best Politics Books of the Year, Anthony Horowitz's Magpie Murders was listed on the Best Crime and Thriller Books of the year, and Margaret Atwood's Hag-Seed was featured on the Best Fiction of 2016 list.
Margaret Atwood's The Heart Goes Last, Renee Knight's Disclaimer, Jojo Moyes' After You, Haruki Murakami's Wind / Pinball and and Yeonmi Park's In Order to Live have been listed on the 2017 Waterstones Paperbacks of the Year List.

The following authors were featured in the Financial Times' round-up of the year: Aravind Adiga's Selection Day and Antonio Garcia Martinez's Chaos Monkeys. Siri Hustvedt, Jane Mayer and Adam Haslett were also listed as authors of the year.
Rosamund Lupton's Sister was selected as top choice from the span of the Richard and Judy book club.

Kate Hamer's The Girl in The Red Coat was featured on the Amazon Best Books of 2016 list.