Actors | Sep 30, 2014
Detectorists Strike Gold on BBC4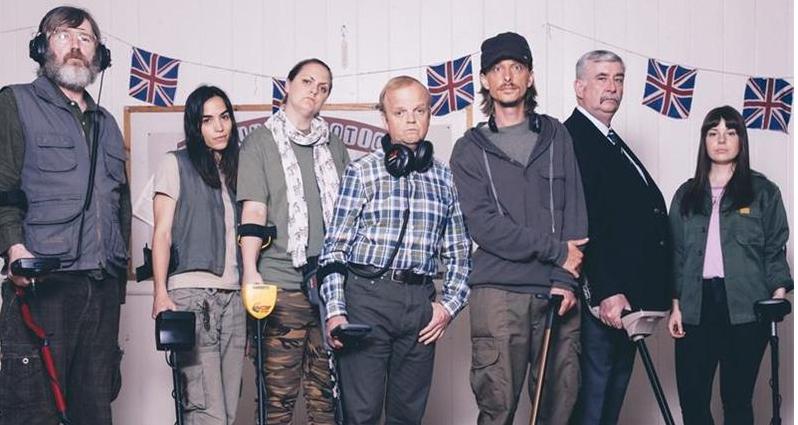 Simon Farnaby, Laura Checkley and Gerard Horan star in BBC4's new sitcom Detectorists, written and directed by Mackenzie Crook, which airs on Thursday 2nd October at 10pm.

Andy and Lance are avid metal detectorists, who, when not actually detecting, spend their time listening to the lectures on the latest aspects of their hobby. The two friends are convinced that they will unearth a previously undiscovered Saxon hoard, but reality has other plans and the pair spend most of their time digging up old cans of Tizer.

This is all until they bump into Sophie, a young history student played by Aimee-Ffion Edwards, who injects a sense of purpose into the rapidly expanding team that is the Danbury Metal Detecting Club.

As the series progresses, Andy, Lance and Sophie are joined by various delightfully quirky detecting enthusiasts who all believe that together they will finally find that one big Saxon hoard.

Simon Farnaby plays Art, a member of a rival detecting club, who continually winds Lance and Andy up. Simon is about to start filming the second series of Sky One's Family Comedy series Yonderland.

Laura Checkley, who played Ann-Marie in ITVs Edge of Heaven, also stars as Louise, a fellow Danbury detecting enthusiast. Louise is the outspoken partner of Freda, a real lover of a committee meeting and not afraid to speak her mind.

Gerard Horan plays the part of Terry, president of the metal detecting club. Gerard has recently finished filming the third series of Da Vinci's Demons and is currently in rehearsals for The Christmas Truce which premieres at the RSC in December.

Detectorists starts on BBC4 at 10pm on Thursday 2nd October.