Translation Rights | Oct 24, 2019
Dov Alfon Wins CWA International Dagger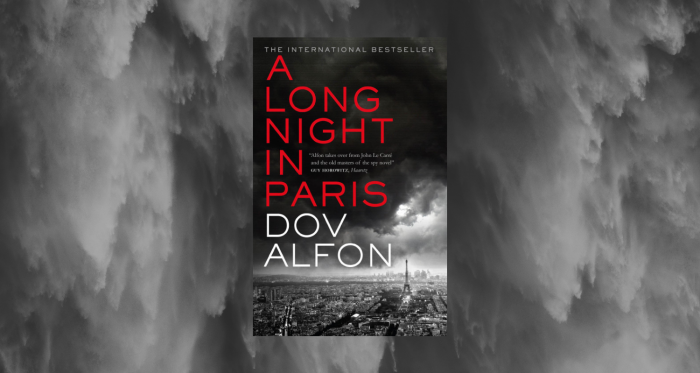 Dov Alfon's first work of fiction, A Long Night in Paris, has won the CWA International Dagger at the crime writing event of the year.
It beat tough competition from novels such as THE ROOT OF EVIL by Håkan Nesser and NEWCOMER by Keigo Higashino at the glamorous CWA Dagger Awards Gala Dinner last night at the Leonardo Royal Hotel London City.
The award's website reads "A rampaging and increasingly murderous ride through twenty-four hours in Paris, and the surprise book of the year that all judges recognised as something very special. Seldom have we seen twists and turns that are so unexpected. Or so welcome."
The Crime Writers Association Daggers have been synonymous with quality crime writing for over fifty years, and they are regarded by the publishing world as the foremost British awards for crime-writing. The International Dagger is for crime novels (defined by the broadest definition including thrillers, suspense novels, and spy fiction) as long as the book was not originally written in English and has been translated into English for UK publication during the Judging Period.
The CWA website notes that Dov was praised by the Financial Times for his insider knowledge. A former intelligence officer of Unit 8200, the most secretive arm of the Israel Defence Forces, he was also Editor-in-Chief of Israel's most influential newspaper, Ha'aretz.
Earlier this month Dov also won the prestigious Marianne Award, awarded to the best thriller published in French over the preceding twelve months. It has also been a #1 Times bestseller and was Waterstones' June Thriller Book of the Month.

It has so far sold in Bulgarian, Dutch, English, French, German, Hebrew, Hungarian, Italian, Polish, Portuguese (Portugal), Romanian, and Spanish.
We represent this book on behalf of Ziv Lewis at Kinneret Zmora Dvir Publishing House Ltd. and it was translated by Daniella Zamir.