Books | Nov 7, 2011
Jennifer Egan wins Galaxy Book Award 2011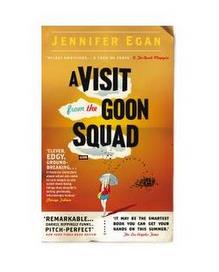 Jennifer Egan has been named International Author of the Year for A Visit From the Goon Squad at the Galaxy Book Awards 2011.


The winners in each category were announced at a star-studded event at the Mandarin Oriental in Knightsbridge. Hosted by Dara O 'Briain and Helen Baxendale, the awards ceremony was attended by some of the very finest British authors and heads of UK publishing houses. The ceremony will be broadcast in a six-part series on More4 between 13 November and 17 December. Each show will include features on each of the winners and in-depth interviews with the season's biggest celebrity authors.
While the awards primarily recognise British writers, the International Author of the Year category honours the best new books from non-British nationals. Haruki Murakami was one of the authors shortlisted for the prize for his novel 1Q84.
Following 13 individuals over fifty years, ranging from the San Francisco 1970s music scene to the pre-Internet nineties to a post-war future, A Visit From the Goon Squad is a spellbinding novel. Hailed as "moving and life-enhancing", it was awarded the 2011 Pulitzer Prize for Fiction earlier this year.
The public are invited to vote for their favourite book from the Galaxy National Book Awards category winners to be crowned Galaxy Book of the Year. To choose A Visit from the Goon Squad, and be entered into a draw to win a National Book Tokens Gift Card worth £100, please register your vote at the Channel 4 website.