Books | Oct 1, 2014
Legend of Frog wins Best Funny Book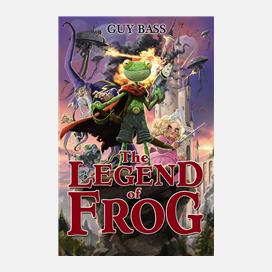 Guy Bass' The Legend of Frog has won Best Funny Book in Teach Primary's Top 50 books for Primary School age children.
When a frog-like prince ventures beyond the End of the World to claim his throne, he finds a plucky princess is already sitting in the Big Chair. A royal rivalry ensues, but when Frog discovers he's prince of an alien army, he realises he is not destined to rule... but to destroy. Can he and the princess put aside their differences long enough to save the kingdom?
Frog is not the only prize-winner amongst Guy's books - the wonderful Stitch Head is the winner of the 2014 Coventry Inspiration Book Award, with The Legend of Frog shortlisted for the 2015 awards. The Legend of Frog has also been shortlisted for the 2015 Bash Primary Awards.
The Legend of Frog is the first in a three-part series, and the second book, Frog the Barbarian, is out now. The final book in the series, currently titled The Mighty Frog, is scheduled for release in Spring 2015. The series is published by Stripes Publishing.