Actors | Oct 15, 2009
Life is a Dream opens at the Donmar Warehouse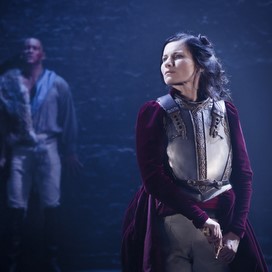 The Donmar Warehouse's production of Life is a Dream, which stars Kate Fleetwood, Malcolm Storry and Rupert Evans alongside The Wire star Dominic West, has been critically acclaimed on opening. It runs at the intimate West End theatre until 28th November.

Helen Edmundon's adaptation of Pedro Calderon de la Barca's Golden Age epic has been heralded as "a brave and inspired choice" by Whats on Stage's Michael Coveney, with The Guardian's Michael Billington adding, "the acting is a joy to behold."

Kate Fleetwood plays Rosaura, a woman seeking vengeance on the cousin who spurned her at the altar, played by Rupert Evans. Malcolm Storry appears as King Basilio, the man who first imprisoned Segismundo and whose decision to release him for a day fuels the action.

Declaring hers as "the standout performance," the Evening Standard's Henry Hitchings writes that Fleetwood "exults in her passages of high rhetoric, but also has an intriguing predatory stillness."

In The Telegraph Charles Spencer writes: "Kate Fleetwood is both sexy and touching," while, for Michael Billington of The Guardian, she "brings a ferocity to the wronged Rosura."

Billington continues, "Malcolm Storry has a rugged grandeur as the implacable King," and Michael Coveney proclaims Rupert Evans's Astolfo as "an accomplished supporting role...played suitably smarmy."

To see a full round up of reviews, click here.