Theatre, Film and TV | Jun 5, 2018
Public Theater Announces its 2018/19 Season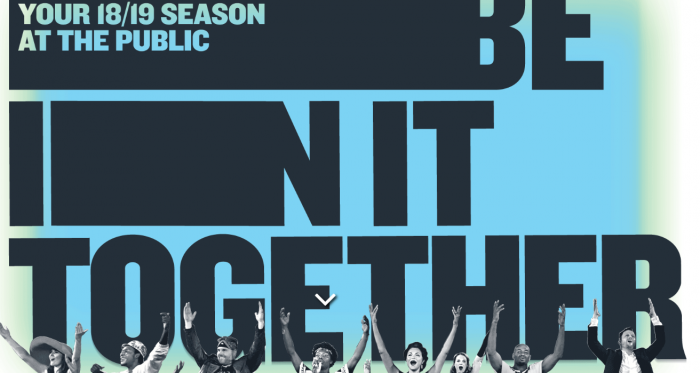 Girl from the North Country, written and directed by Conor McPherson, and Nick Payne's A Life will both have their New York premieres as part of the Public Theatre's 2018/19 season. Tom Sturridge will make his debut at the Public this season, performing the monlogue Sea Wall by Simon Stephens.
Girl from the North Country is a new musical featuring the music of Bob Dylan. It is set in Duluth, Minnesota in the midst of the Great Depression. At a family run guesthouse, lost and lonely individuals come together and one man believes that he may have a solution to their problems. It had its UK premier at the Old Vic Theatre in July 2017. The Evening Standard described it as "beguiling and soulful and quietly, exquisitely, heartbreaking. This is, in short, a very special piece of theatre."
A Life is a meditation on how we say goodbye to those we love most. It first premiered in the UK at the Royal Court in 2014 as The Art of Dying, with Nick Payne performing his authored monologue, directed by Michael Longhurst. Jake Gyllenhaal will have his Public Theater debut when he stars in the New York premiere of A Life. The Guardian described the play as "beautifully crafted meditation on death. Nick Payne's refreshingly simple three-story monologue takes us to a place none of us want to go."
Sea Wall is a monologue about love and the human need to know the unknowable. The two monologues will be performed as a double bill of solo shows, directed by Carrie Cracknell. Tom Sturridge will return to Broadway after his critically acclaimed performance in 1984 last year.
Conor McPherson is a critically acclaimed playwright and screenwriter who won an Oliver Award for The Weir. Most recently he wrote the successful three part drama Paula for BBC Two.
Nick Payne is a playwright and screenwriter whose previous work includes Constellations which won the Evening Standard Best Play Award and transferred to Broadway in 2015. Nick adapted A Sense of An Ending starring Jim Broadbent and has several TV projects in development including six part series Wanderlust which stars Toni Collette and airs on BBC One later this year.
Girl from the North Country will run at Public Theater from September 11th – November 4th 2018. You can find out more information here.
Sea Wall / A Life will run at the Public Theater from January 26 – March 24 2019. More information can be found here.