Books | Jan 14, 2021
The Times Names its Picks for Best Historical Fiction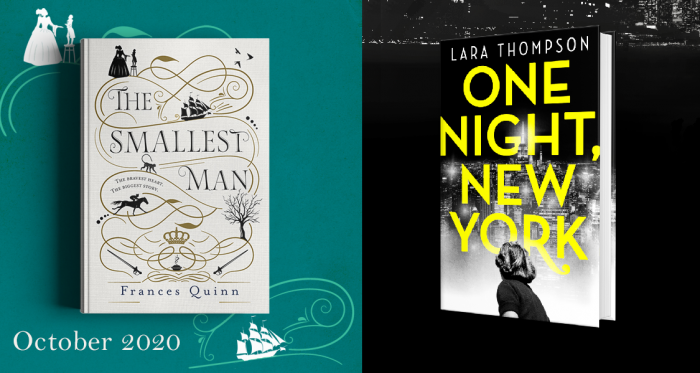 The Times has featured Curtis Brown authors Frances Quinn and Lara Thompson in its roundup of the best Historical fiction of January 2021.

Lara Thompson's debut novel One Night, New York follows Frances and Agnes as they seek revenge upon the man who has wronged them. Set over the course of a single night during the Great Depression, the novel is a detective story, a romance and a coming-of-age tale in old New York, with The Times stating, 'Thompson's portrayal of stubborn, brave Frances is enthralling; this page-turning thriller marks her as a writer to watch.

The Smallest Man by Frances Quinn is the perfect blend of fact and fiction in what The Times called 'a fascinating debut'; inspired by the life of historical figure Sir Jeffrey Hudson, the story follows Nat Davy, who at the age of 10 is gifted to Queen Henrietta Maria and soon comes to be known as the Queen's Dwarf throughout the court. However, despite his short stature, Nat will prove that he is so much more than a rich woman's pet at a time when the country is being torn apart by Civil War.

Both One Night, New York (published by Virago) and The Smallest Man (published by Simon & Schuster) are available now.