Actors | Oct 20, 2011
Trystan Gravelle and Shane Zaza star in 13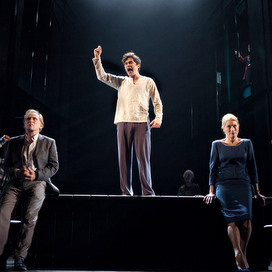 Trystan Gravelle and Shane Zaza star in Mike Bartlett's new play 13, directed by Thea Sharrock for the National Theatre.
The play begins with a group of character across London all waking up from an identical, terrifying dream. Trystan plays John, a young man who has returned home after years away with a vision for the future, while Shane plays Zia, a post-graduate student with an expert knowledge in quantum physics and advanced mathematics.
13 is staged in the National's Olivier Theatre and is described as an epic new play set in a dark and magical landscape where ominous visions intersect with a stark and urgent political reality.
13 previews from the 21st October and performs in rep until January 8th.
Image (c) Marc Brenner.