Books | Sep 18, 2019
Vicky Phelan, Emer McLysaght and Sarah Breen land three Irish number ones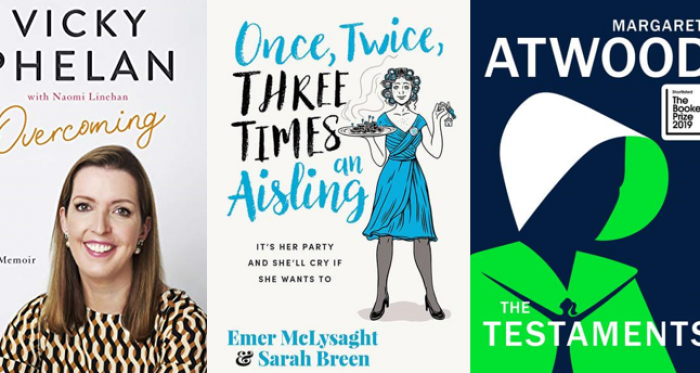 We are delighted to announce that Vicky Phelan, Emer McLysaght and Sarah Breen have hit the Irish Times bestseller top spots this week.

Vicky Phelan's inspirational memoir Overcoming, heralded by the Irish Times as being "an exquisite mix of the personal and political", is number one in Paperback Non-Fiction. After exposing the CervicalCheck crisis in April 2018, Vicky rose to prominence as a national campaigner, becoming one of Ireland's most respected individuals. Overcoming tells the story of Vicky's many struggles, from a life-threatening accident in early adulthood, her devastating later discovery that her cancer had returned in shocking circumstances - and the ensuing detective-like scrutiny of events that led the charge for her history-making legal action.

From one Irish heroine to another, the third instalment in Emer McLysaght and Sarah Breen's Aisling series, Once, Twice, Three Times an Aisling, is number one in Original Fiction. With her best friend's wedding on the horizon, a café to run and a love life to figure out, Aisling is back and more hilarious than ever. As part of the novel's publication, the authors hosted #AislingDay at Eason in Dublin, giving away books and merchandise to the first fifty people named Aisling. The previous novels in the series, Oh My God, What a Complete Aisling and The Importance of being Aisling land the number four and two spots respectively in the Paperback Fiction chart.

Margaret Atwood's highly anticipated follow up to the The Handmaid's Tale, The Testaments, secures the number two slot in Original Fiction, whilst The Handmaid's Tale itself took the top spot in Paperback Fiction.
Adam Kay continues his successful run in the Paperback Non-Fiction chart at number five with This is Going to Hurt.
Overcoming is published by Hachette Ireland, and the Aisling series is published by Gill Books. The Testaments is published by Chatto and Windus and This is Going to Hurt is published by Picador.