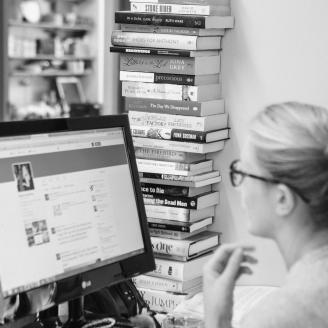 If it has been said once, it has been said a thousand times – publishing is a tough industry to break into. However, once you're here, we can guarantee that there is no better place for any book-lover to be. Getting hands-on experience is vital to landing your first job in publishing, whether that be in a publishing house, scouting or in an agency.

Here at Curtis Brown, we run (if we may say so ourselves), one of the best internships in the business. Our 3 month, London-based paid placement offers interns an incredible opportunity to work with a stellar range of authors and agents. You have the opportunity to become a real part of our brilliant Book Department team, and see projects through from beginning to completion, as well as experiencing the steps that bring your favourite books to the shelves.

The book department of Curtis Brown has been at the forefront of international publishing and a leading literary agency for over one hundred years. From John le Carré to Jojo Moyes, Margaret Atwood to Grayson Perry, today we represent many of the world's best-selling and award-winning authors. Whether you have a taste for quirky debuts, prize-winning non-fiction or influencers, you're sure to find authors and titles you love here.

Our internship is a great first step to a career in publishing, as some of our fantastic former interns agree:

"I loved being an intern at CB and having started, never wanted to leave. I'm still here and still loving it. The reason: my colleagues. Who from day one have taught, informed and helped me to develop my career."

Felicity Blunt, Agent, Curtis Brown


"My time as an intern at Curtis Brown was incredibly valuable as I started off in the book industry – I wouldn't be where I am now without it. From reading submissions and writing reports, to tackling the permissions pile and adding content to the website, being in the thick of the action within the books department was eye-opening, interesting and above all, fun! I would highly recommend it to those looking to gain a better knowledge of publishing and agenting and to learn from some of the best in the field."

Francesca Best, Editorial Director, Transworld Publishers


"I had never heard of translation rights before starting my internship at Curtis Brown. However, I discovered I loved it and that it was a perfect fit for me. I stayed at Curtis Brown and am now a Translation Rights Agent, getting to work on our fantastic list of authors with publishers all around the world."

Sophie Baker, Translation Rights Agent, Curtis Brown


I absolutely loved my internship at Curtis Brown – I definitely wouldn't be where I am now without it. You're really thrown into the work and given every opportunity available, I learnt so much and loved working with the whole Book Department team too who were prepared to go the extra mile to help me secure a job in the industry. It's a one-of-a-kind internship and I'll always be grateful to the team for the great opportunities it opened up for me.

Hayley Steed, Agent, Madeleine Milburn Literary Agency


"My internship at Curtis Brown was a hugely enjoyable and formative experience. With a variety of daily responsibilities, from reading submissions to handling permissions, I was immediately fully immersed in the passionate and energetic world of agenting. I learnt invaluable lessons from the experienced agents and assistants, who were also beyond supportive in helping me take the next step in my career."

Edward Grande, Finance Analyst, Vintage


"The Curtis Brown Book Department internship was an amazing and invaluable experience. From day one I felt like part of the team and was fully immersed in the agenting and publishing world. In a short amount of time, the wealth of information I learnt about the publishing industry and the different connections I made definitely gave my career the kick-start I was looking for."

Ciara Finan, Agent's Assistant, Curtis Brown


"My three months interning at Curtis Brown was a career defining time for me. Having interned at publishing houses before, at CB I realised how dynamic and exciting agenting work can be, focusing on finding new talent and building authors' careers from the ground up. As a direct result of my time at CB, I got an assisting job at another agency, PFD, where I am now an agent. I learnt a huge amount at CB, and it was an incredible first experience in the world of agenting."

Laura Williams, Agent, Greene and Heaton


"The Curtis Brown internship was an incredible experience that helped me realise that this was the right career path for me. I really felt part of the team from day one, and the colleagues I met here helped me develop the valuable skills I needed to become an assistant."

Jess Whitlum-Cooper, Commissioning Editor, Headline


"The CB internship is not just a great way to build some very well-connected contacts, it'll give you an invaluable insight into the business of publishing. The more you understand about how books are first read and acquired, the better equipped you'll be for whichever part of publishing you land in. Like any internship, the more you put in the more you'll get out. The books department made me feel like part of the team."

Fraser Crichton, Freelance Editor, Proofreader and Copywriter


"My internship at Curtis Brown was a brilliant foot in the door. I loved being on the frontline reading unsolicited submissions and discussing first drafts of authors' work with their agent. I was a month into my internship when I went to the infamous CB Christmas Party and after that I made sure I was next in line when a job came up!"

Rebecca Ritchie, Agent, AM Heath


So what are we looking for in our ideal intern candidate?

Enthusiasm and a genuine love of books is, of course, key, as well as a willingness to get involved with whatever task may be put in front of you. We're looking for someone dynamic, reliable and who will feel comfortable in a busy office environment. You will be expected to manage a large, diverse workload, so the ability to prioritise and handle tasks efficiently, but still with a sharp eye for detail, is essential. Friendly faces and those interested in the industry will find themselves in particularly good company.

No two days on the CB Books internship are ever the same. Every week, you will spend a half day with each agent's office, working alongside their assistant and providing additional support and cover. Regular tasks include reading and providing feedback on unsolicited submissions, record-keeping, responding to enquiries, updating the website and designing new social media content and initiatives.

If you think you have what it takes, keep your eyes peeled on our internships page and our Twitter for details of our next vacancy.