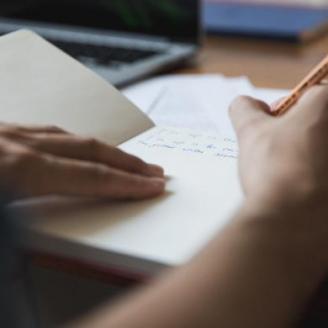 Curtis Brown Creative is the UK's only agent-led creative writing school, launched in May 2011 as a way of reaching out to new writers, helping them to write their best and get smart about the industry.

We have always worked closely with our clients to help them develop and edit their work. The writing school lets us help writers at a much earlier stage of the process, sharing inside knowledge to help students get ahead of the slush pile - over 75 of Curtis Brown Creative students have gone on to secure book deals with major publishers since its launch.
Our Selective Courses
We run three- and six-month courses in our London offices, and three- and six-month online courses with flexible hours so that writers with restrictive schedules or those in different time zones can take part from all over the world.
The courses feature special guest speakers and tutors from the worlds of novel-writing and publishing, appearing alongside literary agents from Curtis Brown and sister agency C&W. Past guests have included David Nicholls, Jojo Moyes, Rosamund Lupton, Jeffrey Archer, Tracy Chevalier, Tony Parsons, Jonathan Freedland and Jane Harris.
Our Short Online Courses
We've also run low-priced online 'taster' courses for people trying their hand at novel-writing for the first time and people who are not able or ready to take on the greater time and financial commitment required for our longer courses.
Starting to Write Your Novel, Write to the End of Your Novel and Edit & Pitch Your Novel are designed to take you all the way through your novel, from the germ of an idea to a polished draft and pitch.
For those who want to write brilliant picture books for children, our 3 new online courses on Writing & Illustrating Children's Picture Books feature inspirational advice from published author-illustrators Sarah McIntyre and David O'Connell.

You can also opt for courses on Writing a Memoir with Cathy Rentzenbrink and Writing Short Stories with Cynan Jones.
See all of our upcoming writing courses here.
Follow Curtis Brown Creative on Twitter for writing tips and to join in with our monthly writing competition #WriteCBC for a chance tow in free course places.